Canary Islands: A Low Season Refuge
When Remi Blanchet set sail from mainland Spain on his 55-foot ketch, Télémaque, on a round-the-world odyssey, his first stop was in the Canary Islands, where he found a warm welcome and some good anchoring spots due to arriving in the "low season".
Published 2 years ago
The Island of La Graciosa
When we sailed with our 55-foot ketch, Télémaque, in the direction of the Canary Islands from mainland Spain, we did think that when entering in Spring, we would arrive in either shoulder or high season.
As being relatively recent sailors, how surprised we were to learn that seasons are reversed down here: High season is (roughly) between the end of October and March, besides this, without becoming a desert, the islands are less populated. 

Why that? we asked.
Winter in Europe drives vacationers towards warmer – and not too remote – places. The water is ideally warm (around 22 or 23 degrees Celsius…sometimes even more), surfing season is optimal and most obviously the mild climate balances unmistakably the harsh temperatures of North and Central Europe.
From a sailing point of view, this is the season of the ARC (Atlantic Rally for Cruisers) and whomever wants to cross over the ocean usually makes a welcome stop-by in the archipelago.


An aerial view of Lanzarote Marina in Arrecife
Welcome – and no PCR Tests

One may think, all this may have been the case before COVID times. 
Yet, as the pandemic shattered many sailing plans when going around Europe with ever-changing public health legislation, rules and regulations, we were surprised how welcoming the islands remained despite some discouraging disclaimers here and there.

In the Canary Islands, they follow a 4-level alert ranking (level 1 being the minimum alert level, level 4 being the maximum). This is updated every week, and for now the general impression is that the life on the islands (with the exception of having to wear a face mask constantly when outside) is quite bearable compared to other places still under complete or partial lockdown in Europe. Restaurants, bars, cafés and shops remain open until at least 11 p.m., which for us sailors who went down the Portuguese coast during this winter has remained unseen since last summer.

Before our arrival, a quick call with the Marina of Arrecife (Lanzarote) confirmed that no PCR test was needed for either skippers or crew when arriving. The requirements seen online are valid for air and ferry passengers, yet we sailors aboard a privately owned vessel are not concerned by these regulations and not mentioned in them. This was also confirmed by the Tourist Board of the islands. 

The remainder of the islands are free to be visited and accessed (some limitations, yet not dramatic, apply depending on the alert level).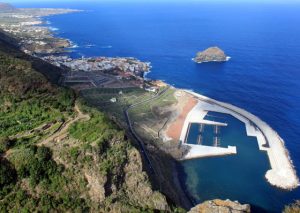 Reservations are Recommended
Although some places are still closed (i.e. the house of César Manrique on Lanzarote). 
Now the tourists' population is slowly leaving after a summer's vacation and the marinas are getting ready for the ARC. Docking places are harder to come by without prior reservation, though very good anchoring spots are still available (we especially recommend Valle Gran Rey on La Gomera island, and Barranco Seco, off Los Gigantes in Tenerife). The smaller islands in the West are less crowded and populated by departing vessels, yet it remains essential to call beforehand if ever wanting to make port.
We also would like to point out, that ports managed by the Canarian government (Puertos Canarios) are considerably cheaper than privately-owned marinas. This becomes important for the budget, now high season is slowly kicking off.
Though I emphasize that we did try our best to avoid making port, as Télémaque is a big boat and tends to score high in daily fee.
From what I gathered, it is best to make a reservation is by phone or email beforehand, with dates of arrival and departure. The contact information is easy to find on the website of Puerto Canarios, where the ports are listed along with telephone numbers, names and mail addresses of the marineros.
An incoming ship may have better luck by contacting them during weekdays and between 9 and 11am, or after 3pm: it makes a quick answer more likely. They will require a copy of the boat's and crews' documents (+insurance) and send you a written confirmation with the price estimate by return of email.
From our experience, we tried our luck with two of them: Corralejo on Fuerteventura and Garachico on Tenerife.
Corralejo not recommended…
For the first one, I would not recommend it, as the port is very small, there are very few places for visitors, boats above 12m will not be able to get in and even anchoring in the vicinity is only possible for a fee. Plus, the marinero was adamant about the fact that the dinghy should in no circumstances enter the marina, it would have to get hoisted on a nearby beach, which I would not recommend at all, as these can be crowded, and leaving a dinghy unattended would make its disappearance almost certain. Facing this question, the marinero's answer was very clear: "Not my problem".
…but Garachico is a friendly place
Garachico is a small harbour, quite recent, on the northern coast of Tenerife, one of the few which is located upwind. The marineros were very friendly on the phone and we did take arrangements for a docking place, which was lost its availability when we moved the date of our arrival. Thus, I would recommend to stick to the given dates when making a reservation.
Update on Puerto del Rosario
Besides Puerto Canarios, I would like to report on a oddity in port management: Puerto del Rosario on Fuerteventura, as we made a one week stop-over there. This marina is managed directly by the Policia Maritima. It is brand new and may accommodate bigger boats (Telemaque and her 55 feet could fit in without any problem). The policemen are very friendly and helpful for any kind of questions. It is to remark though that the fee is per day (and not per night), so if staying one night, one is asked to pay for 2 days. Yet tariffs were affordable and we valued it as a good alternative to Corralejo's unwelcoming stance. Lastly, though water and electricity is included in the price, there are no showers or laundry available there.
All in all, publicly-managed ports and marinas have a reputation of being globally cheaper, and marineros (despite exceptions) a tad friendlier.
Remi Blanchet
SY Telemaque
………………………………………………………………………………………………………………………………………
The opinions expressed in this article are the author's own and do not reflect the view of Noonsite.com or World Cruising Club.
………………………………………………………………………………………………………………………………………