Canada: Cruising the Coast of British Columbia
Canadian Sailor JJ Holcman has spent many years exploring the coast of British Columbia after emigrating to Canada from the Czech Republic in 1982 and purchasing his first sailboat in 1986. Here he shares his many years of experience cruising this coastline with useful pilotage notes, local boating tips, a round up of the best places to visit and a wealth of free weather and navigation links (useful for cruising anywhere in the world, not just Canada!).
Published 1 year ago
British Columbia (BC) has a beautiful coastline with over 10,000 islands stretching from the US state of Washington (WA) to the south and Alaska to the north.
The safe cruising season for BC is generally from May until September but monitoring the weather is essential while cruising these waters. BC's coast is influenced by thermal – katabatic winds in the summer, mainly inside inlets and fjords.
Inner waters in the Strait of Georgia generally have wind flow from South and East (E, SE, S, SW) or North (NW, N, NE). Westerlies are transition winds between systems. Westerlies do not last long. Exemption are Qualicum Beach westerlies which funnel into the Strait of Georgia from the west coast via Barkley Sound and Alberni inlet.
Barkley Sound
Charts and Current Tables
The tidal range in BC can be over 15 feet (5 meters) and tidal/ocean currents in some passages reach over 7 knots in Flood or Ebb.
Ocean current tables/charts need to be consulted frequently while cruising BC and WA waters. USA and Canada publish ocean tide and current tables. They are also found in marine navigation programs and applications (see links at bottom of report).
The Inner Coast has two different current flows. The dividing area for these two currents is near Campbell River and Johnstone Strait. The Strait of Georgia is influenced by flow from the south via the Strait of Juan de Fuca from/to the open Pacific Ocean and the Johnstone Strait is influenced by flow from the north via Queen Charlotte Strait from/to open Pacific. Tide and Current tables, marine programs and applications include these differences. They are fairly accurate and reliable.
Marine charts of BC are OK, but not perfect. Depth soundings can be wrong in some areas. Some vector charts are missing hidden rocks and reefs. Old raster charts seem to be more reliable (Raster charts are digital copy of paper charts, Vector charts are digitally created and they do have some mistakes). Marine charts for BC are NOT free for download as are the USA's free NOAA charts. In my opinion, the most accurate position anywhere in the world is achieved via satellite programs and apps, NOT marine charts!
The Alaska Current runs all the way to California. The BC coast has very rich marine life, but cold water due to the Alaska current. Seas get warmer 200 NM offshore. Inner waters between Vancouver Island and the mainland coast of BC (Strait of Georgia) are generally warmer. Desolation Sound is very popular during summer for warm (swimming) water with busy anchorages and marine traffic.
Jervis Inlet
Winter Months Get Nasty
Things do get nasty in winter months (November, December) with measured height of waves over 100 meters (300 feet) on the west coast of Oregon, Washington and British Columbia. Brooks Peninsula on the west side of Vancouver Island can be an issue even in summer months. I experienced 15 meters (45 feet) seas at Brooks Peninsula in July 2001 with 50+ knots winds. The Marine forecast was wrong during this event, which was one of the reasons why I started learning about weather forecasting. Brooks Peninsula is similar to Cape Mendocino in Northern California (land sticking out).
Ocean Routes to BC
Visiting BC or Pacific Northwest coast can be done via several Ocean routes:
– motoring (power sailing) north from Mexico, California, Oregon, Washington;
– the Clipper route from Central America (Panama) to California – see chart BA 5308; amd
– sailing from Hawaii to BC or sailing via Aleutian Islands and Alaska.
Leaving BC or Pacific Northwest coast can be done:
– while sailing south along the coast of WA, OR, CA in August or September (October);
– sailing from BC to Hawaii is common;
– the lesser known route from BC to Marquesas Islands works as well in late September. This route crosses the hurricane path between Mexico to Hawaii. It can be done with good weather info.
Monitoring hurricane activity from Mexico to Hawaii is essential during any trip from BC to Hawaii or Marquesas islands in late summer.
I prefer cruising the lower part of BC's West coast because the climate is better in the southern part of BC. The north and central coasts of BC can be cold and wet (rainy) even in summer months. Low pressure systems get deflected by the Pacific High further north during summer, influencing the central and north coasts of BC. The south coast of BC tends to have dryer and warmer weather during the summer months.
The coast of British Columbia offers stunning scenery
Great Places to Visit
Haida Gwaii (formerly Queen Charlotte) archipelago [north of Vancouver Island] is very interesting to visit on the way to/from Alaska. Rules for visiting this area are constantly changing. Any visiting yachts need to obtain permits from Haida Gwaii native (indigenous) groups and attend information meetings.
Hot Springs Cove – Maquinna Marine Provincial Park located 25 NM North of Tofino [Vancouver Island], is a very beautiful place to visit – a MUST see! It has just recently re-opened after two years of COVIDS shutdown. Best to check the status before heading to the Park. There is a decent anchorage at Hot Springs Cove.
The best time to visit the hot spring pools is in the morning or late afternoon and evening – the park gets busy with tourists during the day. Plenty of water taxis, sea/float planes, whale watching tour boats visit the Hot Springs government wharf during the days in summer. I recommend to take crocks or aqua shoes to Hot Springs pools (sport sandals get destroyed in warm/hot water-glue). Hot Springs Cove has a Telus cell tower nearby, so good cell/data signal.
Hot Springs Park
Tofino [Vancouver Island] offers good provisioning, fuel, propane and marinas (limited). Anchoring in Tofino area is OK, just pay attention to ocean currents. Internet is available in Tofino, cell towers nearby, good cell/data signal.
Tofino, Vancouver Island
Vancouver/Victoria to the West coast of Vancouver Island (Ucluelet) – a boat trip requires figuring out the weather window for the Strait of Juan de Fuca. This 120 NM trip from Victoria area to Ucluelet/Barkley Sound can be nasty due to weather or strong thermal – katabatic winds – during summer afternoons and evenings in the Strait of Juan de Fuca.
I usually anchor at Port Renfrew overnight on the way up. There is safe anchoring only in N or NW wind flow. There is a small marina.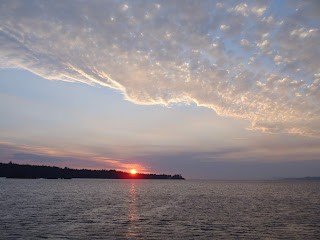 Barkley Sound near Ucluelet – another beautiful area to visit on Vancouver Island's west coast. Broken Group archipelago is part of the Pacific Rim National Park. It is very popular for sea kayaking and camping on selected islands in the park. Well known worldwide for sea kayaking. Most of the pictures in my blog are actually taken from a kayak. I have been coming up there from Vancouver area for many years. Barkley Sound is influenced by thermal – katabatic winds in the summer as well! They can blow close to 30 knots on warm sunny afternoons and evenings. Just be aware of it. It is no problem to find a good safe anchorage in Barkley Sound which also has decent cell/data coverage in most areas.
Ucluelet has WiFi/Internet available, cell towers nearby, good cell/data signal and offers good provisioning and fuel. Marinas are busy and limited.
Port Alberni has some facilities, but it is long way inland.
Sooke is shallow harbor on the way to/from Barkley Sound (some anchoring available). WiFi/Internet is available in Sooke, cell towers nearby, good cell/data signal with good provisioning and marinas (limited). Fuel at gas station ashore.
Inner waters of the BC and WA coasts are fairly busy during summer times. Cell/data signal is usually good in the inner waters and Strait of Georgia.
Victoria – the capital city of BC and nice to visit. There are not many anchorages in Victoria but there are some anchoring options nearby. Marinas are busy and limited here. There are plenty of marine services and provisioning to choose from around Victoria and the east coast of Vancouver Island.
Other recommendations include:
Gulf Islands between Victoria and Vancouver are very popular (busy) in main boating season (June to August).
Sidney BC has some options for fuel, provisioning and marinas (limited).
Ganges BC is good for provisioning, fuel, dining, etc.. Anchoring at Ganges is OK but very busy during summer.
Ladysmith BC has some options for anchoring, fuel, and marinas (limited).
Nanaimo BC has good options for anchoring, provisioning, fuel, propane and marinas (limited).
Comox BC has some options for anchoring, provisioning, fuel and marinas (limited).
Campbell River BC has good options for provisioning, fuel, propane and marinas (limited). Difficult anchoring in strong current.
Port McNeill BC in Johnstone Strait has good options for anchoring, provisioning, fuel and marinas (limited).
Port Hardy BC has some options for provisioning, fuel and marinas (limited).
Vancouver – has plenty of marine services and provisioning to choose from in nearby areas. Short term anchoring is permitted in Vancouver's downtown area at False Creek. However, access to shore is limited due to private development of the shore facilities. False Creek's Granville Island Food Market and marinas nearby might be an option for shore access.
Gibsons BC has good options for anchoring, provisioning, fuel and marinas (limited).
Pender Harbor BC has some options for anchoring, provisioning, fuel and marinas (limited).
Powell River BC has some options for provisioning, fuel and marinas (limited). Close to Desolation Sound.
Stanley Park, Vancouver.
Nice areas to visit in Inner waters of BC between BC Mainland and Vancouver Island – Strait of Georgia:
Howe Sound – located north of Vancouver (between Vancouver and Gibsons). It offers magnificent views of high mountains and glaciers. Most of the anchoring is done around Gambier island and near Gibsons. Howe Sound leads the way to Whistler Olympic ski area.
Central Strait of Georgia:
Buccaneer Bay between North and South Thormanby Islands. Nice area, good anchoring (deep). Explore surrounding islands, shores and coves!
Lasqueti Island and Jedediah Island Marine Provincial Park near Texada island. Very nice area to explore. Plenty of anchorages, more quiet during busy summer boating season.
Pender Harbor is a jump off point for beautiful Jervis inlet and Princess Louisa Inlet.
Anchorages inside Princess Louisa Inlet during the main summer season are busy, but there are some anchoring options outside in Jervis inlet. Many waterfalls can be seen there.
Hornby Island, Tribune Bay is a good anchorage for N, NW winds, but busy in summer months.
Desolation Sound near Powell River BC and Lund is the most popular boating region in BC's waters in the summer. Anchorages get crowded during July and August, busy with marine traffic.
Johnstone Strait needs to be navigated carefully. Figuring out current flows is necessary. Johnstone Strait is influenced by thermal – katabatic winds. Large cruise liners sail via Johnstone Strait to/from Alaska.
Princess Louisa Inlet
Communications:
BC has two cell tower signal systems – Telus and Rogers. Cell/data service is provided by many smaller companies. Telus signal coverage is better for boating in BC. Telus network includes these service providers – Telus, Bell, Koodo, Public Mobile. Public Mobile is a good choice for visitors. Rogers network includes these providers – Rogers, Chatr, Fido.
Weather and Navigation:
Here is some useful information on weather, navigation and a couple of other suggestions.
I spend a lot of time researching these subjects. Trust me, the information mentioned below is quite useful to cruising sailors.
I use Windows and Android, because there are more options for marine stuff. Android applications can be found in APK file format, which is very practical for offshore cruising.
Apple, iOS application file format is IPA. APK can be installed anytime, anywhere on an Android device (phone or tablet) without internet connection! The downloaded application – APK file – is yours forever and can be shared with other cruisers. Some applications are not available (disappear) at Google Play Store after a while for many different reasons. This is no good if you really need them. Look for APK format downloads of your "must have" Android apps.
Good news for those of you who are using Windows and Android, Windows 11 seems to be better than Win 10. Win 11 has some very useful new features for the marine environment and can be installed on computers older then 2 years! Some good features in Win 11 are:
Remote phone operation and mirroring;
multiple screens/desktops (very useful with older marine programs);
automatic tab orientation if selected (next to red close button in any tab/window);
Win 11 appearance can be configured way you want (most settings are adjustable to your needs).
I use phone mirroring all the time on my sailboat to view my phone's screen on the laptop's large/full screen. World News clips and other important info can be downloaded to the phone while online and viewed later OFFLINE via the large screen of the laptop with a USB cable connection. Some of these apps allow full operation of the phone remotely via the laptop including restart of the phone remotely.
I have tried a few different apps for phone mirroring. Here are the good free ones:
AnLink – https://anl.ink/ (.exe file for Windows includes Android setup) – works OFFLINE via USB cable, WiFi and SIM data, includes remote phone screen rotation and file transfer – very good. It is by far the best free app around for phone mirroring. The big deal is, that it transfers any file format (exe, pdf, jpg, png, text, video, audio, etc….) between Android phone/tablet and Windows PC (both ways) WIRELESSLY without a cable connection. Android phone/tablet and Windows 10 or 11 device need to be on the same WiFi network. However data signal from SIM card (hotspot) via Android phone/tablet and Windows 10 or 11 device works well also!!! Very handy, I use it every day. Transferring many photo images or video files is still faster via USB cable. AnLink has a big advantage in transferring any file format instantly – WIRELESSLY. Phone can be used as a wireless memory storage/transfer device similar to flash drive or SD card. AnLink is easier to use than online cloud storage.
Scrcpy: https://sourceforge.net/projects/scrcpy.mirror/ or https://github.com/Genymobile/scrcpy NEW version of Scrcpy works WIRELESSLY as well! Rotation of phone's screen in Scrcpy can be achieved via the keyboard shortcut ALT+R or CTRL+R.
Microsoft's Phone Link – Microsoft Store (part of Win 11 and built in newer Android phones) – allows mirroring Android smartphone to laptop via WiFi, Bluetooth or phone's hotspot. Does not seem to work via USB cable, no remote phone's screen rotation yet. Good for monitoring text messages, phone calls, etc. remotely – good.
Samsung Flow is OK, but it corrupted my ADB driver in Win 10 and Win 11 a few times.
Virtoo by LG is OK but being discontinued.
Fog rolling in.
Free Weather Info.:

Windy.com website or app. App for iPhone and Android also available.
This is the best weather info. with very good satellite info. The website has a hurricane/cyclone tracker with many different options includign enabling pressure isobars and particles animation. It will also give you fresh airport wind reports anywhere – very useful for sailors! Fog is actually visible in Windy's Satellite tool – blue mode, very fresh satellite loop/image. Newer features at Windy.com are webcams, fog, tide forecast.
Windguru website and apps. App for iPhone and Android also available.
Good for rain/snow (precipitation), barometric pressure and temperature. You have to login (free) to get pressure reading at website. Compare new and old Windguru Android APK. I use both of them.
Environment Canada Weather – https://weather.gc.ca/
Many options for weather info. on this website including the BC Forecast, temperature forecast (not too good for real long-term forecast), the past 24 hours (good info.), very good (fresh) satellite loop (image) of BC, and a marine forecast – not too accurate for long term.
Paid Weather Info.:
PocketGrib – App for iPhone and Android. Good 8 days weather forecast (rain/snow, wind, pressure). One time (forever) payment of approx. $8 is well worth it! Good Grib file viewer.
Good news – you can view other grib file formats in PocketGrib (from your own grib file subscription/source). PocketGrib APK for Android available for download.
Weather Fax – I would like to mention that SSB or HF/HAM radios are still useful without Pactor modem for receiving satellite images anywhere in the world. Weather fax satellite images can be received several times a day for most regions. Big deal is getting them at Intertropical Convergence Zone (ITCZ). You can see if there are any squall clouds in your area and how good or bad your night is going to be!
Decoding the weather fax signal can be done via – OpenCPN plugin in for Windows and via Android app – HF Weather Fax. The only tool needed is a male-to-male 3.5 mm audio cable to connect the SSB/HF radio to a laptop's audio plug or Android phone's audio plug. Android app can just listen to radio sound via microphone without a cable, but it is not as good as cable connection. Inexpensive world travel radios like Sony, Eton/Grundig, etc. with SSB frequency will do as well.
Free Marine and Road Navigation – OFFLINE
OpenCPN is very good – Windows, Mac, Android (APK available), Linux,… NO iOS version yet
Flytomap has many different world map formats, including marine charts (raster, vector, hybrid).
Satellite navigation is very good and accurate. Cache files can be saved for offline use. Cache files need to be created and saved ahead of time when internet is available.
SAS Planet for Windows and Oruxmaps for Android are satellite navigation tools.
Google maps need to be updated online every 30 days now.
Windy Maps – very good. Download only needed areas (large size of map files). Windy Maps offline road maps have been merged with Mapy.cz offline maps – https://play.google.com/store/apps/details?id=cz.seznam.mapy&hl=en – still very good offline maps.
Maps.ME – good. Download only needed areas (large size of map files)
Free World Tides and Currents:
JJ Holcman
SY Ocean Echo 1
Requests for more detailed info regarding cruising BC's coast and weather information can be sent to JJ at

[email protected]



Pictures from BC's coastline from 2018 to 2021 voyages can be seen on the author's blog at http://oceanecho1.blogspot.com/
………………………………………………………………………………………………………………………………………….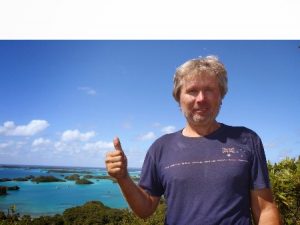 About the Author
JJ Holcman started a new life in British Columbia, Canada in 1982 after leaving the Czech Republic and purchased his first sailboat in 1986, spending many years exploring the coast of British Columbia.
After a few years of preparing his sailboat for a single handed world circumnavigation, JJ finally departed BC in 2010. He sailed south to Mexico, Marquesas, French Polynesia, Niue, Tonga, New Zealand, Fiji, Tuvalu and the Marshall Islands where his journey ended unexpectedly with the loss of his Beneteau 400 due to the failure of a new electronic steering computer.
In 2015 he purchased a Beneteau 423 and continues to sail BC waters which are currently his cruising destination for reasons of older age and Covid-19.
………………………………………………………………………………………………………………………………………..
The opinions expressed in this article are the author's own and do not reflect the view of Noonsite.com or World Cruising Club.
Related to following destinations: Alaska, British Columbia, Campbell River, Canada, Comox, Cortes Bay, Duncan, Gulf Islands, Kitimat, Lund, Nanaimo, Okeover Harbour, Port Alberni, Port Hardy, Prince Rupert Harbour, Refuge Cove, Sidney, USA, Vancouver, Vancouver Island (British Columbia), Victoria, West Coast (USA)