The latest (7th) edition of this most useful cruising guide for anyone sailing Northern Atlantic waters, has been extensively revised and updated. Published September 2021.
Published 6 years ago, updated 4 years ago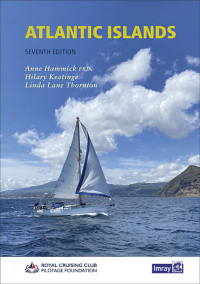 Atlantic Islands – Seventh Edition
Bermuda, Azores, Madeira Group, Canary Islands and Cape Verdes
Published by Imray
Co-authored by the RCCPF, Anne Hammick, Hilary Keatinge and Linda Lane Thornton.
This well-established cruising guide, now in its fourth decade, covers the Azores, Canaries, Madeira Group, Cape Verde Islands and Bermuda. The seventh edition of Atlantic Islands builds on solid foundations – the co-authors' long familiarity with the area, an invaluable network of local contacts, and the constant flow of information and feedback received from yachtsmen and women during the lifetime of the previous editions.
If you are planning on crossing the Atlantic and don't yet have a copy, then this new seventh edition should be on your pre-departure shopping list. Not only will it save you weeks of research online, but it will be an indispensable guide for your passage planning, routing, paperwork prep, local sailing and navigation and cruising practicalities.
Regular free online supplements using feedback from the cruising community make this a purchase that can be easily kept up to date.
Plus it may just make you consider doing more than a quick dash across to the Caribbean and back!
From the sun-baked lagoons of Bermuda to the verdant slopes of the Azores and Madeira, from the fiery landscapes of the Canaries to the less visited coastlines of the Cape Verdes, this seventh edition has thoroughly updated text and plans and is illustrated with numerous new photographs.
It opens with a chapter on essential route planning considerations; wind, currents and a variety of sources of weather information. All important factors when planning a long ocean voyage. Each country is then covered in detail including ports, marinas and anchorages supported by new photos as well as new and revised harbour plans and the fully updated text.
The co-authors knows their group of islands inside-out and it shows in the depth of content and recommendations within the guide. Wonderful attention to detail means a breadth of bonus extras such as useful websites and sources of local information for each island group, a list of national holidays, easy reference tables showing ports and marinas and much more.
Each of the five island groups of the North Atlantic are becoming increasingly enjoyed as cruising destinations in their own right (in the first edition there were only ten marinas in all the archipelagos combined – today there are ten in the Azores alone). Take some time to find out more about these exciting destinations and perhaps one day you'll be planning an Atlantic circuit to enjoy the delights of all five.
Sue Richards
Editor – Noonsite.com