Atlantic Coast: Sailing the Atlantic Coast of France, Spain and Portugal
Previous Page
Report Intro
An interesting report from a US yacht about their experiences when sailing down the Atlantic coast from Ushant to Porto.
Last Update - May 20, 2015
Report Content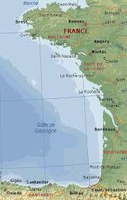 French Customs (Douane) with a USA boat/crew…
We had heard horror stories about the French customs from at least half a dozen people: they warned us to have ALL your paperwork exactly in order and perfect documentation or risk having your boat seized or impounded. Honestly, we had a REALLY great experience with them! We were boarded off the coast near Ouessant and they were extremely professional, polite, and courteous. During our time with them, their patrol boat got called away on an emergency – a parachute flare was spotted a few miles away – so the crew got stuck with us. They told us all the great restaurants, creperies, and pubs. Perhaps the warnings were for the best because it made me make sure all our paperwork was perfect; nevertheless, these guys actually made us feel welcome in their country rather than feeling afraid we were going to get caught not dotting I's and crossing Ts.
Worth a mention also: we make a point to run AIS as a good faith gesture with the local authorities as well as for all the safety reasons. Occasionally, we would be called by the coast guard or a Douane patrol boat to report the number on board and our day's itinerary (port of departure and where we were headed). Again, nothing but professional and courteous.
Brest – Marina du Chateau
All accurate as listed except: if you need fuel, you can pay at the pump if you have a French credit card. If you don't have a French credit card, you must call and have the pump turned on and you must walk all the way to the harbour office (long walk!).
Brest tides… Noonsite does not mention the unusual tidal streams around Brest Harbour. I suppose most people might be aware of it if they cruise the area often, but I actually did not realize how serious they are! Getting caught in the narrow channel approaching Brest while on ebb… Holy cow. We were a little late and got there just at the switch: 4.5kts against us.
Douarnenez – Port de Plaisance, Treboul
The visitor berths are located out in the channel. You say in the listing that there is "no visitor berthing within the marina itself" but that is only partly true. There is certainly space for visiting vessels, but it is the first to fill up. We lucked out and space was not occupied. The draught is limited to under 2m and probably less than 15m-18m LOA if in the marina; if outside the marina in the normal visitor berths it is much deeper and a bit bigger. We spent many days here waiting for a storm to pass, and the harbour had fine protection from wind, but would become VERY rolly… but only at high tide. Because the tide height is so significant, the harbour entrance becomes very narrow at low tide and doesn't allow the swell inside. However, about HW +/-2, the harbour widens out and lets the swell in. You mention that the swell comes around the breakwater at northerly winds, but it was any direction.
Audierne – St. Evette
It is a great quickie rest stop after passing by the Raz du Sein if heading farther south. The mooring buoys range from near drying to at least 3m. If arriving at high tide, be aware of depths.
Belle-Ile – Le Palais
I could not find an entry on Noonsite for Belle-Ile. These two ports, Le Palais and Sauzon, are very important ports! Sauzon dries. Le Palais is a port with ferries. There are buoys out in the outer harbour against the breakwater and there are new floating pontoons for smaller craft that can be walked onto from the shore. The outer harbour is susceptible to (significant) swell and (significant) prop wash from the ferry but affords adequate protection. We were here at the kick-off of the official yachting season (Easter Weekend): one day the place was abandoned, the next, we were rafted up four deep in the basin. The basin is accessible HW +/-2 by a gate and lifting bridge. The basin is split into two parts: the main basin is for visiting craft but is quite shallow (draught greater than 2m is marginally okay); the inner basin is basically for local craft only. All communications are on VHF Ch09 as typical. Power and water are available in the basin but not in the outer harbour. Power was frequently overloaded by the number of boats plugged in. No wifi, but local pubs do have wifi. The basin is literally against a city street with no fence or gate: lock your boat! Because access to the basin is only available HW +/-2 the port becomes EXTREMELY busy during these times and the narrow channel leading from the outer harbour to the basin was congested with yachts going both directions. Reservations are not accepted: first come, first served; if the basin is full you will be turned away. It is one of the only secure harbours for larger or deep-draught yachts, so be aware of this.
Ile-d'Yeu – Port Joinville.
As listed on Noonsite. Reservations are accepted. Marina has wifi, but on a pay basis that requires a credit card and a French cell phone number to validate. Cafes in town have free wifi.
La Rochelle
There is still occasional dredging going on, but most of it is maintenance dredging. Dredgers and equipment may sit in place overnight; these are not lit well. Be very cautious if arriving after dark. Port des Minimes expansion work is completed also. Also, spectacular services for repair. Provisions are a long walk away. There is a water bus that runs a route departing once an hour at 30, it goes directly into the Vieux Port and into town. You list depths at 2m: this has been expanded in some places but it depends on the area of the marina. We were here at spring tides and our keel touched bottom in the visitor berth. It may be worth mentioning that, though the approach to La Rochelle is buoyed and lit and has leading lights, there is also unlit buoys and fixed poles marking the channel: strongly suggest caution if approaching at night for the first time. Ferries enter and leave the area at speed and there is a lot of boat traffic in the area, but outside the channel, it is only inches deep at LW. Caution is needed at all times. Maybe worth mentioning that almost all visiting yachts had shore power troubles and the breakers tripped twice per day on average.
Gijon, Spain
Mostly accurate as listed, but you don't list this as a port of entry with the "*Gijon": it is an official port of entry with customs/immigration officers that will come to the boat upon arrival (or first thing in the morning if arriving after hours). (Nice guy!) You mention that the visitor's berth is in an outer harbour, port to the entrance. It isn't really an outer harbour, it is just another section of the harbour. But the marina staff always request visiting the "Arrivals" pontoon first to check in. All is clearly marked by large signs visible at the entrance.
Ribadeo, Spain
All accurate as listed. The finger piers of the dock were very short and spaces tight. Larger yachts (LOA 15+) might have difficulties.
Viveiro, Spain
All accurate as listed, except 3m dredged channel does not extend into the marina. Depths were very much 2m (chart datum) in our berth in the outermost docks. If at low water spring, we would have been touching the bottom (the depth was 1.8m in our berth). Also, you mention max length at 10m: not true. We are 13m and there were a few other yachts there at 14m and 16m: the most significant restriction is draught. Fuel is available by truck. You mention: "marina can assist with repair work"… Partially true but this is arranged by an engineer driving in from A Coruna. The staff is multi-lingual.
Porto, Portugal
Douro Marina. All facilities are available, none are temporary or under construction. 35ton travel lift and dry dock services, repair, wintering facilities. Toilets, showers, laundry (and laundry service). Wifi. Friendly multi-lingual staff. Call on VHF09 during business hours (08:30-20:00) when less than an hour from the harbour entrance. New arrivals will likely be met by RIB in the river which will guide you to a berth and help with docking. The marina also has multiple restaurants (sushi & continental), cafe, bike/motorcycle rental, small chandlery, convenience store. Problems: the docks move CONSTANTLY. The river has tour boats that pass and push a heavy wake into the marina. (This motion is profound enough to make things fall off the galley table and need to cook with the gimballed stove swinging.) Any swell, moderate winds, or tide will cause significant motion in the marina. The tide runs hard on the ebb in the channel (+/-3kts) and the charted depths are inaccurate: follow the buoys to #4 (a green starboard mark) before turning toward the marina due to a shifting sandbar. Outside the marina harbour, be aware of the heavy presence of fishing buoys and unlighted floats.
I hope these are all helpful. And I hope my next update email has some really exotic places on it!
Noah Darnell
S/V Proteus
Places
User Comments
You must register first or be logged-in to leave a comment.
No comments for this post.