Contents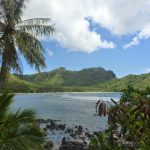 The newly-published RCC Pilotage Foundation book "Pacific Crossing Guide" has met with acclaim among the cruising/sailing public and press.
On Friday, June 16, 2017, 1:30 PM BST, lead author Kitty Van Hagen will address some big questions facing anyone considering crossing the Pacific in their own yacht. She will talk about how to best use Navionics charts while sailing, in addition to her own experiences and learning curve, suitable equipment and boats, main routes to follow and much more!
You will receive a link to participate and, even if you are not able to attend, you will get the webinar recording.