Previous Page
General Info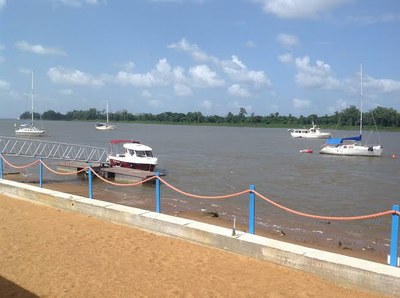 This small village lies about 9.6 kms (six  miles) upriver from Paramaribo and is where cruising boats should proceed to on arrival. Clearance in Paramaribo can be done from Domburg.
Facilities for yachts improved greatly here during 2013, with new moorings (part of Harbour Resort Domburg – see photo) installed off the village in the river, new services ashore plus a marina further upstream.
At weekends, the normally sleepy Domburg livens up a little with many locals enjoying the waterfront, eating out in the many small restaurants.
Location:  05° 42.47'N, 55° 05.17'W (off the village)
Clearance
See the main Suriname Clearance page for full details of how to complete clearance from Domburg.
Paramaribo can be reached by bus from Domburg or Domburg Harbour Resort can arrange for a driver or hire car to use for the clearance process.
Last updated: June 2019
Docking
Take note of the tides in the river. See Pilotage & Local Info for advice on timing.
Anchoring
The best anchorage is off the village in about 10 meters, but allow plenty of scope and swinging room. Take care as this anchorage is reported to be littered with debris (nets, ropes and small logs). The dinghy can be left at the wooden steps in the stone wall or at the floating dinghy pontoon at Harbour Resort Domburg.
The jetty is only for the use of ferries and official boats.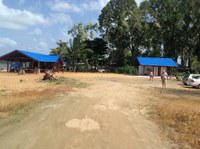 Marinas
Harbour Resort Domburg started operating in late 2013 (see photos right and above). This offers visiting yachts assistance with the clearance process, moorings, a dinghy dock, a restaurant, laundry, shower block, WiFi, swimming pool, plus a number of other services.
Within 300m of the dinghy dock, there are three supermarkets, a doctor, a bank with ATM, a fuel station, hairdresser, engine repair, police station and several churches.
The whole harbor area is a protected area and has good security.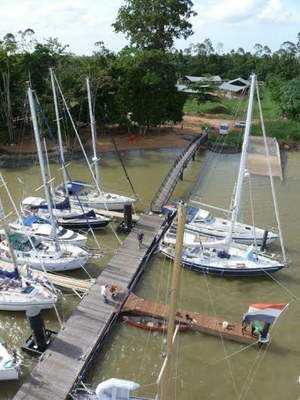 Upriver from Domburg, a small new marina, part of the Waterland resort, opened in December 2012.
The marina is in a fairly isolated area, however, it is very easy to rent a car close to the resort for approx. Euro 12 per day, or appoint a local driver for the same amount to run you around. Some new shops have also opened near the resort.
Last updated: June 2017