Previous Page
General Info
Located on the NW of the island, about 15km west of the capital, St Dennis. Port de la Pointe des Galets is usually referred to simply as "Le Port".
It is an artificial harbour in the western part of Le Port area. This is an industrial area with little in the way of attractions for a visitor.
Position 20°56'10″S, 55°16'42″E (harbour entrance)
Clearance
This is the only Port of Entry on Reunion.
See Reunion Island Clearance for full details of clearing in and out here.
If planning to arrive at Le Port, it is recommended that you ensure you have a berth (email your request) before leaving your previous port. It is unlikely however you will be turned away should you arrive unannounced.
Make sure you receive acknowledgment of the receipt of your Arrival Notification form (Declaration De D'Entree ).
If arriving outside marina hours, tie up alongside the fisherman's wharf south of the entrance (depth is 5.5m). Alternatively proceeds farther south to the marina and tie up alongside the reception pontoon, in front of the Port Captain's office (the architecture of which was inspired by the Sydney Opera House).
Deep-drafted boats should not proceed beyond the fishing wharf, where the depth is 5.5 m. Contact the marina manager who will advise on the correct procedure.
Yachts that arrive outside working hours usually have to wait until the offices open.
When planning on departing, it's recommended to clear out 2 days before your departure.
Lastest update: October 2017
Docking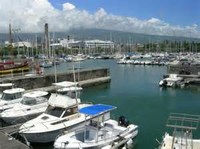 The two parts of this marina are managed by the same team. The office is in the old marina. It is the small Sydney Opera House looking building in the northeast corner.
The old marina (Port de Plaisance) is south of the commercial harbour. (photo left)
In August 2015, a new 80 berth marina opened here, located on the eastern side of the commercial harbour and just a 5-minute walk from the town centre. This is where visiting yachts are most likely to be allocated a berth. Whilst security is good in the marina with key operated gates, it is still advisable to not be complacent and to secure any loose items of value on deck. A theft overnight was reported here in January 2017. See reports adjacent.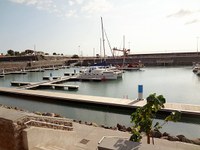 Photo (right) of the new marina from Jason Trautz
It is important to contact the marina BEFORE arrival as you may be turned away if there is no space.
Jerome Belhuerne manages both marinas.
Latest update: January 2017
Marina Port de Plaisance (New basin)
Marina Port de Plaisance (Old basin)
Yacht Clubs
Places
Pointe des Galets (Le Port), Reunion Island