Previous Page
General Info
COVID-19: OPEN PORT
For yachting protocols see Biosecurity.
Message from the Walvis Bay Yacht Club: The Walvis Bay Yacht club offers temporary membership to you for your stay. All options will be discussed with you when you arrive. We already cut costs as much as possible to assist you in this challenging time, please do not accept this as negotiable. When you arrive, please radio port control. Please be in contact via telephone or whatsapp on the number below, or via email [email protected] We do not have radio access 24 hours a day: +26481 1272239 (secretary) or +26481 1281945 (commodore)

Office hours at the WBYC are 9-13h00 Mondays to Fridays. We shall assist as far as possible, so please phone us if we are not at the office.
Description:
Walvis Bay (meaning "whale bay") is Namibia's principal port located mid-way down the Namibia coastline. It is situated just north of the Tropic of Capricorn in the Kuiseb River delta approx. 300NM north of Luderitz. It is the country's only natural harbor of any size and offers good protection protected by the Pelican Point sand spit.
Cruiser Highlights:
Port of Entry; good provisioning (for ocean crossings); easy access to game parks; international airport; excellent welcoming Yacht Club; Dune 7 sand dune; sandboarding; kiting; surfing (world famous "Skeleton Bay"); abundant bird life.
Entrance Notes and Cautions:
Fog is common along this stretch of coast and there is a very large oil rig just off the port entrance.
Position:
22° 57'S, 14° 28.6'E.
Clearance
Call Port Control on VHF Channel 16 for permission to enter the port.
General Process:
To check-in you will need to take a taxi to the port. The Yacht Club can help with reliable taxi numbers.
Clearance is carried out first at the Immigration office (skipper plus crew must attend). This is located just beside the main gate to the port. Here you will complete arrival cards.
Next, the skipper must visit Customs, located near the port's northern dock gate. Here you will complete customs form DA1 (2 copies).
Take ships papers, passports and clearance from the last port.
Office Hours:
Immigration is open 0800 – 1700, but clearance both in and out can also be done up to 2100 and during the weekends giving some advance notice.
Customs are open 0600 – 2200 every day.
Departure:
To clear out first visit the Customs office and complete form DA3 for clearance out (2 copies).
Finally the Immigration office to fill out departure cards.
Call Port Control for permission to leave the harbor.
Last updated: February 2020
Related Businesses
Docking
The anchorage at Walvis Bay, Namibia – photo courtesy of SY Gryphon 2 Jan. 2015
Anchoring:
The location of the Walvis Bay Yacht Club (WBYC) is not readily apparent.
Port control will expect you to take the direct route to the anchorage.
The anchorage area is just past the southern end of the commercial harbor. Space is quite restricted due to dredging, although the holding is good.
There is also three meters or more depth between Pelican Point and the Yacht Club, so there is no reason to use the dredged channel or get tangled with the commercial shipping.
Be aware that sometimes the prevailing wind changes to strong winds from the NE and this creates a significant swell in the anchorage and harbor, with at times, breaking waves. Mornings tend to be calmer, with the wind picking up by the afternoon.
The Pelicans and Seals here are king!
Moorings:
The anchorage contains many mooring balls, but most are privately owned. The Yacht Club may have a mooring available, for which there will be a charge. Mooring space is limited however and is allocated on a first come first served basis. Inquire at the Yacht Club office, or in advance by email.
Dinghy Docks:
The WBYC has a dock that can only be reached by dinghy. The club offers a number of services to visiting yachts, including water, WiFi, a laundry service and restaurant. See their listing for more details.
Ashore:
Almost everything is available for visiting yachts in Walvis Bay. Repairs are easy to do as there are good mechanics and machine shops with German quality.
It is a long walk to the town centre from the yacht club, however, the town is safe.
Security:
Walvis Bay is fairly safe on and off the water. While incidents of theft are few and far between, be vigilant as crimes are mostly crimes of opportunity. The Yacht Club advise not to leave valuables in the dinghy at the dinghy dock, as there is not 24 security to look after your assets.
Always be vigilant when using your credit card/pin number, as cloning does happen in Namibia.
Last updated: February 2020
Yacht Clubs
Related Businesses
Walvis Bay Yacht Club

Address: Atlantic Street, Walvis Bay, Namibia,

Welcomes visiting yachts. Mooring and visitor fees are available upon request. Mooring space is limited and will be allocated on a first come first served... Read More
Courtesy Flag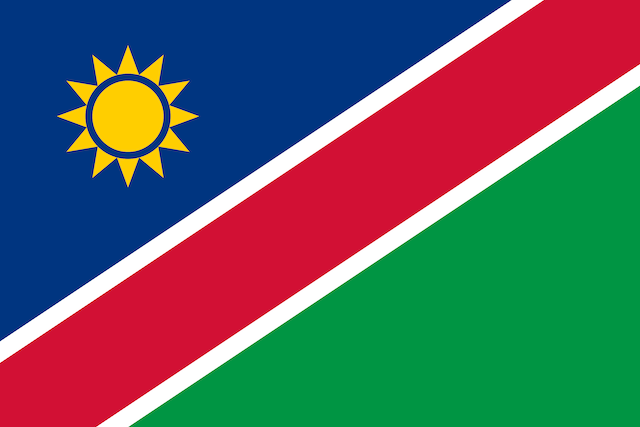 YachtFlags.com offers a discount to Noonsite members.
YachtFlags.com provides high quality courtesy flags that are manufactured in durable Knitted Polyester fabric. Knitted so that the fabric itself does not deteriorate in the constant movement that marine flags are usually exposed to, and polyester so that the flag does not weaken in the strong UV-light usually found in the main sailing areas of the world.
Use the coupon code NOONSITE_5A2B when checking out to get 10% off today.
Buy Now On YachtFlags.com
Places