COVID-19: OPEN PORT

See Haiti Biosecurity for yachting protocols.

Description:

The Island of Ile à Vache, at the SW corner of Haiti, is beautiful and a safe place to visit by cruising yachts. The anchorage is at Port Morgan at the NW corner of the island (see photo, left, of the anchorage at Port Morgan in front of the town of Cai Coq courtesy of Free Cruising Guides).
The island is changing and while there used to be no electric or cars on the island, there are now a few generator and inverter installations plus some motorbikes, mostly in the capital Madame Bernard.
Ile a Vache is slowly becoming more prosperous (the government is planning a major tourist centre on the island with an airport and hotels – slow in coming) but in the main, it will be just you and the villagers.
Ile-a-Vache is not inhabited by rich people, but the fishermen do get by and the people are gentle and welcoming. Because of this, it may work to consider bartering for goods/services rather than simply living on cash. Any excess or old fishing gear can be passed on and it is appreciated if visitors help keep the village clean.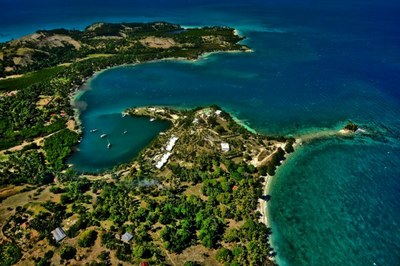 Entrance Notes and Cautions:

Ile-à-Vache is best approached from the West. Keep a sharp lookout for lobster and fish pots. The waters are full of fishing floats, mostly plastic bottles, which are very difficult to see. There is a shoal as you come into the Baie de Feret on the west side, which should be kept well clear of.
Many dugouts will rush out to "see" you as soon as you come in sight, they are friendly people from Caye Coq and will offer you assistance with entering and anchoring. Visitors are rare, so be patient for the first 24 hours, the novelty will soon wear off and the visits from dugouts less frequent.
As in the rest of Haiti, the local fisherman need currency for their fish so that they can buy clothes, cooking oil and rice etc. Locals appreciate the following items: Lines, old sails, fishing nets, floats, hooks, old dive masks, primary school supplies, backpacks for school children, children's shoes, basic medical supplies.
Position:
18° 06.30'N, 73° 41.70'W (harbour)