Previous Page
General Info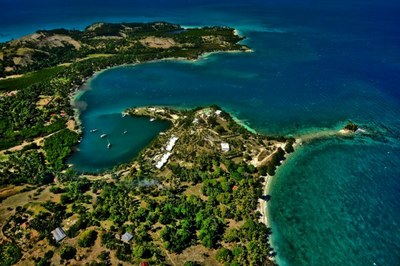 The Island of Ile à Vache, at the SW corner of Haiti, is beautiful and a safe place to visit by cruising yachts. The anchorage is at Port Morgan at the NW corner of the island (see photo, left, of the anchorage at Port Morgan in front of the town of Cai Coq courtesy of Free Cruising Guides).
The island is changing and while there used to be no electric or cars on the island, there are now a few generator and inverter installations plus some motorbikes, mostly in the capital Madame Bernard.
Ile a Vache is slowly becoming more prosperous (the government is planning a major tourist centre on the island with an airport and hotels – slow in coming) but in the main, it will be just you and the villagers.
Ile-a-Vache is not inhabited by rich people, but the fishermen do get by and the people are gentle and welcoming. Because of this, it may work to consider bartering for goods/services rather than simply living on cash. Any excess or old fishing gear can be passed on and it is appreciated if visitors help keep the village clean.
Approaches
Ile-à-Vache is best approached from the West. Keep a sharp lookout for lobster and fish pots. The waters are full of fishing floats, mostly plastic bottles, which are very difficult to see. There is a shoal as you come into the Baie de Feret on the west side, which should be kept well clear of.
Many dugouts will rush out to "see" you as soon as you come in sight, they are friendly people from Caye Coq and will offer you assistance with entering and anchoring. Visitors are rare, so be patient for the first 24 hours, the novelty will soon wear off and the visits from dugouts less frequent.
As in the rest of Haiti, the local fisherman need currency for their fish so that they can buy clothes, cooking oil and rice etc. Locals appreciate the following items: Lines, old sails, fishing nets, floats, hooks, old dive masks, primary school supplies, backpacks for school children, children's shoes, basic medical supplies.
Position 18° 06.30'N, 73° 41.70'W (harbour)
Clearance
See Haiti Formalities for full details on clearing into and out of the country.
Although not yet designated an official port of entry, boats that use Port Morgan can complete clearance formalities here if they wish. In reality, however, most boats that stop here do not clear through Customs and local authorities seem to be accepting of this.
To clear into Haiti while at Ile a Vache, one must go to the mainland at Les Cayes (the 2nd largest city in Haiti). Don't take your own boat here, take the local ferry and a local guide as well. It costs $10 US per person to clear in; a one-time fee that includes clearing out. There is a round-trip taxi boat that runs daily (1 hour each way). If cruisers do not want to cross the bay to go to the mainland, they can arrange to pay someone locally to take the passports for them.
Although Cholera is not reported to be a problem on Ile a Vache, cruisers warn that if you are heading to Cuba after Haiti and declare you have been to Haiti the Cubans will have you on Cholera watch (all crew temperatures to be taken every four hours and logged until the Sanitary Department say you are clear).
Last updated November 2017.
Docking
Anchoring
There is excellent holding throughout the Baie, however, there is limited room in the inner basin (see photo right courtesy of Free Cruising Guides) and so some boats tend to put out less scope; hence the danger of dragging especially after a wind change. Anchoring in the main bay out beyond the basin affords a bit less shelter, but lots of swinging room. On the West side of the bay, you can find internet. See comment at bottom of the page.
Visiting yachts at anchor are charged a fee of $5US (every 3 weeks) for anchoring by the local council. William (Jean Villeme Luzeus) has authorisation from the Mayor of Ile a Vache to collect this one-off charge and will issue an official receipt. The money is used for community work.
Port Morgan itself is situated in the inner basin, a small inlet with good holding and hurricane proof protection and a depth of 3m.
Security
All the locals are very serious about keeping Ile a Vache a safe and charming place and the beachfront homes do watch the boats in the bay at anchor.
Services
The Port Morgan Hotel still offers some services to cruising boats.
Water is not available on the island but can be found at the mainland town of Les Cayes or brought over by one of the locals.  ATM machines, welders and fabricators, supermarkets and other supplies and repairs are also available there.  In as much as Les Cayes does not have a protected anchorage, many choose to go to Les Cayes in the many daily ferries that make the trip.
A local resident, Sam Altema, has acted over the years as a host for visiting cruising boats; helping with repairs and local tours and information. He is multilingual and is now the official SSCA host. See his details below.
There are other very helpful locals offering assistance to cruising boats, whether it be to clear with the authorities, fetch fuel or water, look after your dinghy ashore, provisions or with the internet. See recommendations from cruisers below under comments.
If someone assists you, they may expect a fee for their services. Even informally, this assistance to cruisers may be a major source of income for their family, so don't begrudge them that. Still, negotiate prices ahead of time.
Last updated:  November 2018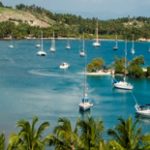 Related Businesses
Edisson St Firmin

Address: Port Morgan, Haiti,

509 48226358 (Whatsapp)

The St Firmin family house is on the beach in Kay-Kok directly next to the old (ruined) church. Contact in advance via Whatsapp with help required. Edisson speaks and writes English and French fluently.

Can assist with good quality veggies and fruits, diesel, Digicell sim card, money exchange, cleaning... Read More

Port Morgan Marina/Hotel

Address: Village Touristique Morgan, BP 118, Les Cayes, Port Morgan (Ile-a-Vache), Haiti,

VHF Channel 09, 16

See photo above from marina website. Moorings for rent for boats up to 30ft (US$10 per night), dinghy dock, fuel (see comments below), fresh water in 5-gallon bottles, bread and salad to purchase, laundry service.

International phone, fax, internet available for those eating in the Restaurant. The Port... Read More

Sam Altema

Address: Port Morgan (Ile-a-Vache), Haiti,

Sam is a local resident and the SSCA host for Ile a Vache. He runs a small store in Caye a Coq and can help cruisers with most requirements; sail and engine repair, general maintenance, diesel, propane, tours, airport transfer, market guide etc.... Read More
Places
Haiti, Port Morgan (Ile-a-Vache)