Previous Page
General Info
COVID-19: OPEN PORT
See Biosecurity for yachting protocols.
Description:
The small town of Livingston sits at the mouth of the Rio Dulce in Honduras Bay. It has no road or rail connections to the hinterland, just boats, and planes. The center of the town is at the top of a steep hill.
Entrance Notes and Cautions:
It is not a port to be entered at night, as the lights are unreliable and fishermen often set their nets then, too.
There is a wide sandbar at the entrance to Rio Dulce; boats with a draft of over 5 ft (1.50 m) must enter at high tide and the maximum draft which, in theory, can be carried through at high Spring tide is 7.5 ft (2.20 m). However, the channel frequently changes. Advice on the state of the tide may be obtained on Channel 68. The bottom is soft mud and not rocky.
Cruisers also warn that the location of the outer marker buoy can not be trusted and it is recommended to request a local guide on first-time entering (contact Raul, approximate price $25). Raoul has a towboat on standby and monitors VHF Ch 16 and 68 continuously, especially near high tide.
There may be a multitude of small fishing vessels covering the channel, so plan ahead. If you can have a spring tide at first light, this is the best plan. Obviously good visibility is helpful.
Security
Yachts are advised never to leave the boat unattended here. If for some reason you cannot leave a person onboard, be sure to lock up and do not leave anything on deck. Dinghy and outboard theft continues to be reported here along with thefts from yachts at anchor. See Noonsite Security Reports.
Position:
15° 49.56'N, 88° 44.18'W (river entrance)
Clearance
COVID-19 coronavirus: New protocols – see Biosecurity for details.
Clearance is straightforward here as officials are used to dealing with yachts.
Fly the Q flag and the officials will come out to the yacht in office hours (weekdays 0800-1300, 1500-1700), for initial clearance and inspection. Customs will take the zarpe from the last port and ship's papers, Immigration authorities take the passports. The captain must collect these later from the shore offices with the necessary entry stamps as well as a new zarpe and cruising permit.
This can all be done in one day if arriving early enough, and some cruisers have reported it only taking 2 hours. Quetzal will be needed to pay various fees.
You should arrive in Livingston early in the morning (the offices open at 8 am) so that you can deal with the formalities and leave at high tide to get past the bar. If the sea is choppy, it may be difficult to work out where the buoy is, but you will be able to follow your arrival route in reverse.
If you choose, there is a cruisers customs agent, "Raoul", half a block from the Municipal Dock. He has been recommended by many. His fee is approx. US$200 including the fees charged by the authorities. It is quite possible that he will come out to the boat with the officials to offer his services. With his help, clearance is quick and simple and you may not even have to go ashore.
Last updated May 2018.
Related Businesses
Servamar

Address: Livingston, Guatemala,

English-speaking agent who can assist with entry and exit papers efficiently, plus cruising permit extensions and visa extensions. Based on the town dock in Livingston... Read More
Docking
The anchorage at Livingston – courtesy of Brian Simm
The holding in the river is not good and, in addition, be aware of the significant amount of traffic on the water at night.
La Marina went out of business in 2008, however, yachts can berth on the Municipal Dock at Livingston. The fee is 20 Q./day, or US$2.50.
Dinghies can be moored at the dock in front of the hotel "Big Mama" from which it is possible to walk into the town.
Last updated: December 2017
Courtesy Flag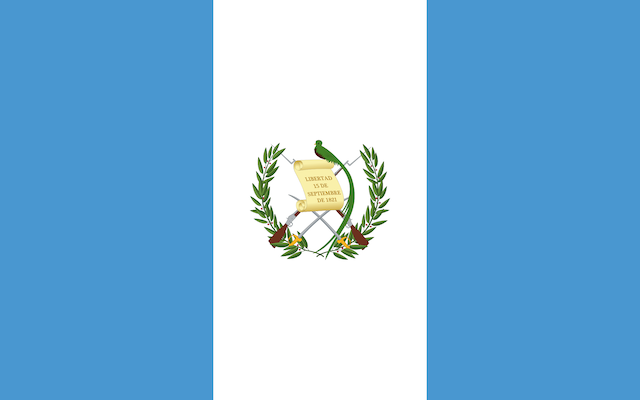 YachtFlags.com offers a discount to Noonsite members.
YachtFlags.com provides high quality courtesy flags that are manufactured in durable Knitted Polyester fabric. Knitted so that the fabric itself does not deteriorate in the constant movement that marine flags are usually exposed to, and polyester so that the flag does not weaken in the strong UV-light usually found in the main sailing areas of the world.
Use the coupon code NOONSITE_5A2B when checking out to get 10% off today.
Buy Now On YachtFlags.com
Places