Previous Page
General Info
COVID-19: OPEN PORT
This is the only port of entry at this time.

See Biosecurity for the detailed entry protocols.
Description:
Puerto Baquerizo Moreno is the capital of the Galapagos. It is located along the southwestern coast of San Cristóbal, the easternmost island in the archipelago and consequently is a popular choice with cruisers for clearing in as the closest port to the mainland.
Tour boats come and go frequently as does the fuel supply boat, so ensure you keep clear of their routes.
Sea lions are problematic. Do not leave your dinghy in the water tied to the boat – it will be colonized.
Position: 00° 53.85'S, 89° 36.77'W (anchorage)
Clearance
This is the only Port of Entry in the Galapagos (since November 2018).
For full information on Clearance into the Galapagos and the procedures to follow see the main Galapagos/Formalities Page.
During busy periods it can take up to a couple of days before you see your agent. Noonsite strongly advises selecting an agent in advance and keeping in e-mail contact with that agent during the passage to ensure they can attend you on arrival. Whilst Noonsite does not recommend any particular agent, all the agents listed on Noonsite have been recommended by cruisers at one time or another (see here). It can be useful to look at reports from cruisers for their various experiences (see related reports).
The Port Captain is located to your right on the beach facing the anchorage.
Last updated: May 2019
Related Businesses
Gala Yachts Services

Address: Academy Bay, Puerto Baquerizo Moreno (Wreck Bay), San Cristobal, Galapagos,

Tel:+ 593 999 11 6066 - 24/7

Clearance, technical assistance, free internet at the office, tours arranged, etc. Contact: Antonio Moreano.... Read More

Yacht Agents Galapagos Co.

Address: Baltra avenue, Puerto Ayora, Santa Cruz, 200105

Javier worked for many years with another yachting agency in the Galapagos and branched out on his own in late 2020. Cruising permits, all clearance and... Read More

Yachtgala – Galapagos Yacht Services

Address: Seymour Avenue and Fragata Street No. 363, Puerto Ayora (Academy Bay), Santa Cruz, Galapagos,

Cruising permits – Autografos, paperwork with all government agencies, yacht support, technical assistance, arranged tours, full shore-based office infrastructure, etc. Operates on all islands and... Read More
Docking
Approach
Stay clear of the SE point. Come in midway between the north point of land, which has a lighthouse on it and the northern-most of two tall, white/yellow, lighted buoys, with a short red one in the middle. The red buoy marks a wreck or pinnacle and the waves break quite high near it, so be aware and stay clear. Also, don't come too close to the lighthouse point, as there is a big surf break there and shallow water.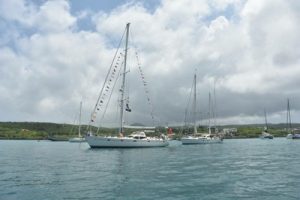 Anchorage
The anchorage at Baquerizo Moreno offers reasonable protection. It is likely you will be requested to anchor in the NE quadrant of the harbor with the old cement cannery pier to your north and Playa Man to your east. Good holding sand bottom but with big rocky patches which show up from the deck in 30' clear water. No stern anchor required.
Yachts with open transoms should put something to block access to their cockpits if they don't want a (smelly) pet sea lion. Loud noises will encourage a seal to leave. They will bark if you get too close. It is a warning that they will bite if you get any closer.
Getting Ashore
It is not a requirement to use a water taxi to get ashore, but as there is a groundswell that makes beach landings difficult and the seal population that lives around the floating pontoon at the wharf will sleep in your dinghy, it is easier to pay the $1 taxi fee per person.
Driver expertise varies so ask around as to who might best protect your topsides. Call them on VHF Channel 14 or simply whistle and wave them down as they pass. Put a couple of fenders down to save your gel coat while boarding.
Water taxis tend to stop running around 6-7pm. If you want to arrange a later pick-up time, expect quite an increase in the price. It's normally not possible to arrange a pick up after 10-11pm.
There are public toilets ashore, take your own toilet paper.
Rubbish Disposal
Your agent will show you where to dispose of rubbish. All is taken back to the mainland to be recycled.
Last updated: May 2019
Courtesy Flag

YachtFlags.com offers a discount to Noonsite members.
YachtFlags.com provides high quality courtesy flags that are manufactured in durable Knitted Polyester fabric. Knitted so that the fabric itself does not deteriorate in the constant movement that marine flags are usually exposed to, and polyester so that the flag does not weaken in the strong UV-light usually found in the main sailing areas of the world.
Use the coupon code NOONSITE_5A2B when checking out to get 10% off today.
Buy Now On YachtFlags.com