Previous Page
Clearance
Formalities requirements in the Galapagos can change on a daily basis. Noonsite endeavors to post details of the latest known situation.
Since 2015 there are no longer single-port arrivals, nor 20-day arrivals. You can only enter these islands with an Autógrafo. Autógrafos must be applied for via an agent at least 60 days in advance of your arrival. With this, you can move between populated ports. Fees total approximately 2,000 USD.
Every yacht arriving in the Galapagos with an Autógrafo must arrive first at Puerto Baquerizo Moreno, Isla San Cristóbal (Wreck Bay). This is the capital of the province and the only port of entry in the Galapagos since November 2018.
Boats that enter without an Autógrafo are placed under "Arribo Forzoso" (forced stop) and are subject to the decision of the Port Captain as to how long they can stay, or if indeed they are permitted to stop. There are two types of "Arribo Forzoso":
1. EMERGENCY STOP (Arribo Forzoso) – 72 hours
In the case of a real emergency such us mechanical, medical or other reasons (properly verified by the Maritime Authority) you will be allowed to stop in one of the 2 inhabited ports with repair facilities (Puerto Ayora and Puerto Baquerizo Moreno). It is only permitted to stop at Puerto Villamil if the other 2 inhabited ports cannot be reached.
The length of stay is up to the Harbour Master's discretion. You will need to use an agent to complete the necessary paperwork and your yacht will be inspected for damage, or whatever the reason for the emergency stop was. After the 3rd day, you must pay all the government fees.
Be certain that the Zarpe from your last port of call does not have Galapagos as your destination, it must have Marquesas or other Pacific destination. Do not use this option as a free pass to "see the sights" as this will only cause problems and quite possibly bring stricter controls into play and prevent those from stopping in an emergency who really need to.
2. ONE PORT STOPOVER – (Arribo Forzoso) – Up to 7 days
This option is only allowed in the port of entry: Wreck Bay, Puerto Baquerizo, San Cristóbal. It is for yachts who wish to refuel, take on provisions, fresh water, and possibly quick repairs.
Again, the length of stay is up to the Harbour Master's discretion (it could be up to seven days). You will need to use an agent to complete the necessary paperwork and you must pay all government fees.
Obviously, the disadvantage of this option is that you are not allowed to travel to other ports with your own boat.
Notes:
The Galapagos does not recognize or allow the normal 72-hour breathing space to rest etc. before checking in. They allow 12 hours only. However, in the first 12 hours, you can take on provisions and water.
AUTOGRAFO: 30+ DAY STOP / MULTIPLE PORTS
Yachts arriving with an Autografo in hand, are given up to 30 days with the possibility of a 30-day extension. All yachts must arrive at the port of entry, Pto. B. Moreno, Isla San Cristobal (Wreck Bay), and may be able to visit the following inhabited ports as well:
Pto. Ayora, Isla Santa Cruz (Academy Bay)
Pto. Villamil, Isla Isabela
Pto. Seymour, Isla Baltra
Pto. Ibarra, Isla Floreana
Cruisers who have obtained an Autografo will automatically be issued a National Zarpe for the Galapagos.
As well as the Autografo, a number of documents and certificates are required in order to visit the Galapagos. For full details see Documents.
ARRIVAL
Ports of Entry
Boats must proceed directly to the official Port of Entry: Puerto Baquerizo in San Cristobal. This is the only port where boats may clear in.
Yachts arriving should not stop anywhere but at the Port of Entry, nor must anyone go ashore in the national park without an official guide (except for a handful of sites where access without a guide is permitted – see Restrictions). Yachts may be boarded at any time to check if one has a guide. The penalty is a fine for stopping at outer islands without permission. All the local boats have guides on board who are in radio contact with the port authority and will immediately report any yacht breaking the regulations.
Agents
It is mandatory to use an agent to check in with the port captain for any stay of more than one day.
The agent acts as a go-between for your dealings with the port captain and will collect the fees for your entry into the harbor.
Note: If wanting to organize an Autografo, then be sure to secure an agent at least two months prior to arrival, as it normally takes six weeks to process all paperwork. If not, it may still be beneficial to contact an agent in advance of your visit so that your details are in the system and you are aware of all costs. This is not mandatory, but it is advisable to have previously arranged an agent. The Agent's fees vary. This fee is sometimes negotiable and it's up to you to decide which agent you take.
It is important to get a clear statement from the agent which charges his fee covers. See fees section for the various charges applicable in the Galapagos.
On completion of the clearing in the procedure, the agent must give you the original "factura", which is a receipt from the port captain detailing the fees charged. It should not be a photocopy.
Noonsite does not recommend any particular agent but there is a list of Clearance agents here. It can be useful to look at reports from cruisers for their various experiences.
Other Clearance Procedures
You will be boarded by a number of officials either all at once or at different times and usually on the same day as each other – but sometimes not. They will want you to fill in forms, many asking for the same information. Be patient – your agent will guide you through the procedure. Officials will include Galapagos National Park officials, an official from the Ministry of Environment, possibly a Doctor (at the HM's discretion) and an official from the Harbour Master. Expect anything from 8-12 officials in total.
It is possible the Navy will come on board to do an inspection and check for foreign food, animals, guns, and contraband.
Environmental Checks (GNP Inspection)
As of January 2014, all yacht arrivals will be subject to an Environmental Risk Assessment:
Hull: These new rules give the approval to conduct an interview with the captain on arrival and will include a hull inspection of the boat by a diver from the GNP. It is, therefore, advisable to have the hull thoroughly (perhaps professionally) cleaned prior to leaving your previous port and to even have a certificate showing it has been done, if possible. Also, do your own hull inspection (if conditions allow) before arrival and don't forget the bow thruster if you have one.
A certificate showing when the last coating of anti-fouling was applied may also be requested.
The cost of the GNP inspection is borne by the visitor and is charged per person on board. The ministerial approval also gives the GNP the authority to demand that if a yacht fails to meet their requirements (a reasonable level of risk), they must leave the Galapagos Marine Reserve. If assessed (and it can take up to 3 days to know if you have passed or not), you may be required to exit the marine reserve (40 miles offshore), carry out remedial cleaning work on your hull and re-enter.
If moving between islands, be sure to check your hull before arriving in the next port as you may be inspected on arrival there as well (for example going from San Cristobal to Santa Cruz).
Black Water Tank: The black water system will be checked, you will be asked the capacity and a notice must be posted below saying " Do not discharge black waters into the sea" (this must be near the engine room).
Garbage: Needs to be separated (organic, recyclable and non-recyclable) and clearly labeled. A second notice must be posted on the outside stating "Do not throw garbage overboard".
Also to be carried on board:-
Absorbent towels, for fuel, in case of spillage (the engine may be inspected for oil leaks).
Biodegradable or Eco-friendly soap.
Other Inspections
Medical: You and your crew may be asked to have a medical inspection by a doctor (at the Harbour Master's discretion). Normally this happens if you have come from a country that is suffering an epidemic. There is a cost for this inspection.
In any case, a doctor will most likely come on board to check what medicines you have. Any out of date medicines will be removed.
Food: The fresh food on board may be inspected. What food you can keep will depend very much on the inspector. It helps to show you have taken steps to avoid infestation (by zip-lock bagging dry goods etc.). Oranges, chilies, berries and passion fruits are not allowed. In some cases nor are bananas. No fresh meat, although some frozen is permitted. No fresh cheese. Find out what food is permitted at www.bioseguridadgalapagos.gob.ec.
General: Officials may want to inspect your boat very thoroughly, looking in the bilges, at your security equipment, through the lockers etc. Again, this depends on how motivated the officials are that you have on board, but be prepared.
Certificates
Fumigation Certificate: This must be produced by all boats arriving in the Galapagos.
AIS Certificate: Your tracking system must be switched on and active while you are in Galapagos waters and an AIS certificate is required.
See Documents for further details on certificates required.
DEPARTURE
Give 24 hours notice that you want to leave so the appropriate Zarpe can be arranged.
Domestic
The port captain will issue a domestic Zarpe for the next port. The agent will handle the clearing out so let him know a couple of days before to be sure it all goes smoothly. There are fees to move between islands.
It is possible that on arrival in the next island officials will want to inspect your boat again.
International
Yachts with an Autografo can leave the country from San Cristobal, Santa Cruz or from Isabela.
Isabela has minimal services (no fuel or ATM) and there is no Immigration official. Therefore yachts wishing to clear out of the country from this port must cover the expenses (approx. 140 USD) of sending an immigration official there to stamp the Passports on departure.
It is possible to share this cost between a group of boats if you can organize it.
On departure, several officials will come on board to search the boat and check you are not taking anything illegal away with you (turtles or drugs).
Last updated: April 2019
Immigration
Passports must be valid for six months beyond your stay. You will need color copies of the passports and ships papers. Take your crew with you.
Crew visas are country dependent.
Nationals of the following countries require a visa and should approach the Consulate of Ecuador of their residence (list may change without notice): Algeria, Bangladesh, Costa Rica, Cuba, El Salvador, Guatemala, India, Iran, Iraq, Jordan, Lebanon, Lybia, Nicaragua, Nigeria, North Korea, Pakistan, Palestine Authority, Panama, People's Republic of China, Sri Lanka, Syria, Tunisia and Vietnam.
Nationals of other countries do not require a visa for stays of up to 90 days or will be granted a T-3 card on arrival also valid for 90 days.
It is now a requirement that all visitors have health insurance cover.
See Fees for current immigration charges.
Crew leaving the vessel in the Galapagos do not have their passports stamped when the boat departs. The passport gets stamped when the crew leaves by plane. There is no other paperwork.
Last updated: April 2019
Customs
Firearms must be declared and will be sealed on board.
If ordering spare parts to be delivered to the Galapagos, expect long delays with Ecuador customs. Cruisers have reported waiting 3 weeks for express delivery, claiming "yacht in transit" will save some duty costs, but will also slow the process further. Duty charges might run to 33% or more depending on the item.
See also the Restrictions section on this page.
Last updated: April 2019
Health
Water Quality Issues
Despite recent improvements in infrastructure, there are still problems with the potable water system in the Galapagos Islands – specifically on San Cristobal. A recent study found that there were still contaminations (including E.Coli bacteria) in the potable water distribution systems.
It is strongly advised that you treat or boil all water that is intended for human consumption. Be careful eating fruits and vegetables that have been washed in potable water.
Documents
Your agent will list the documents required from you. These will include:-
Passport details
Boat registration details
Fumigation certificate
Black water certification for the boat (can be a statement from the shipper regarding the presence of holding tank)
Autografo or Cruising Permit
Those who wish to stop longer in the archipelago (longer than seven days), and/or visit more than the official Port of Entry on their own boat, must obtain an Autografo (cruising permit). These can be obtained for between one and five ports and must be applied for through an agent.
The procedure for obtaining an Autografo is lengthy (between six and eight weeks) but can be done by email and fax and many cruisers say it was well worth the effort. Note that the authorities have a quota for yachts, of between four and six per month, although these quotas change from year to year. Therefore applications for Autografos may not always be successful. Apparently, large crews of more than four or five are not desired, as they are suspected of being on an unofficial charter. Any type of chartering by foreign yachts in the national park is not permitted.
Each Autografo is always an individual permit and itineraries are customized. Some agents, for example, will "allow" Floreana as one of the five ports if applying for a five port Autografo, others not. Also, note that each port on the itinerary can only be visited once, it is not a permit to just cruise wherever you want.
On each island, there are limited "free" sites where cruisers can visit without an official guide. However, if intending to explore the National Park in depth, an Official Naturalist Guide has to be hired at a fee of 200 USD per person per day and has to be paid to the national park + all the administration fees. The process is long and expensive. There are about 40 places around the islands where tourists with guides may go ashore.
The regulations for pleasure craft are very specific:
According to Article 50 of the Special Law for the Conservation and Sustainable Development of the Galapagos province of 18 of March 1998, every foreign, non-commercial vessel in transit, with a maximum of 10 persons, can visit any one of the inhabited ports for up to a maximum of 20 days. To visit the National Park areas, they can leave their ship in any selected port and utilize the services of a local tour operator. In such a case, each person is required to pay to the Galapagos National Park Service a park entrance fee of 100 USD for every person older than 12 years and 50 USD for children under 12. The Park entrance fee does not include the tariffs related to anchorage fees, which must be paid to the port captain, nor any payments required by the immigration authorities.
Those who do not intend to visit any of the National Park areas will be considered to be a vessel in transit. This comes under the international rules that permit the entry of vessels to international ports for a minimum time of 72 hours and therefore would not require additional procedures to enter Galapagos territorial waters.
Should an interested person wish to visit the National Park areas with their own vessel, they are subject to other regulations as follows:
a) They must have the entry permit from the relevant naval organization to enter territorial waters. According to the stipulations of article 138 of the Galapagos National Park Administrative Statute, vessels with a capacity of up to 30 persons must have the authorization of the National Park Administration Office.
b) On arrival at the islands, they must inform the port captain and pay the correspondent tariffs for lights, buoys and anchorage fee. Additionally, they must complete immigration formalities.
c) The visitor entry fee must be paid at the National Park office. They will receive an itinerary to the visitor's sites within the park based on the availability due to site capacity standards.
d) Additionally, every vessel that wishes to visit National Park areas under this system must contract the services of a licensed guide authorized by the National Park Service. This guide will sleep on board and accompany the shore party BUT as no dinghy may be left on the shore, one crew member will be required to remain with the yacht.
e) According to article 142 of the mentioned statute, every vessel that comes to the Galapagos Islands must submit to quarantine inspections and present the fumigation certificate of the last port of call.
f) Changes in the original crew entering Galapagos is not permitted except in the case of emergencies.
Fumigation, Sanitation and Garbage Documents
The Ministry of Environment official is interested in fumigation and sanitation. He will want to see a fumigation certificate and a sanitation certificate.
Fumigation Certificate
You must have a fumigation certificate from the last port. Certificates from Panama are accepted but it must confirm the following:
The vessel was fumigated against insects, rats, mosquitos, etc.
Method of fumigation
Used products
Quantity (dosage)
Date of fumigation
Date of expiry
It also must be valid during the whole stay in the Galapagos.
Your certificate may or may not be deemed sufficient. If not, your boat will have to be sprayed in the Galapagos for an additional charge. It does not appear to be a problem arriving without a fumigation certificate and getting it done in the Galapagos (cost approx. 80 USD). Fumigation does not cause any damage and is a similar spray to that used in airplanes.
Sanitation Certificate
A sanitation certificate (black water holding tank confirmation) can be self-certified. This can be as simple as a statement from the skipper that the boat has a holding tank for sewage and black water. Make your own including details of your holding tanks then sign, date it and ideally boat stamp it. In addition, there must be posted below (near the engine compartment) a notice stating ' Do not discharge Black waters into the sea '
A certificate showing that the hull was professionally cleaned before leaving your previous port is also advisable.
Garbage
Garbage needs to be divided into organic, recyclable or trash.
On the outside of the boat, there must be a notice posted stating ' Do not throw garbage overboard'
Last updated: April 2019
Fees
Various fees need to be paid and do vary from port to port and agent to agent. All official expenses have to be paid in "cash" on the islands, paying with a credit card is not an option.
Sample Fees
Three-week visit, 2 adults, 3 children, 13-ton boat: 2,400 USD
Three-week visit, 2 adults, 10-ton boat: 1,800 USD
Entry Permit (Autografo)
Entry Permit up to 30 days: 300 USD
Entry Permit up to 60 days: 400 USD
Agent Fees
The choice of which agent you use is entirely yours to make. The fees for the agent are not fixed.
Agent fees for an Autografo are between 450 – 650 USD.
It is not uncommon to get fees reduced if you negotiate. If the fees asked for are unacceptable you may ask for another agent. Ask for a clear breakdown of which fees your agent is including in his total cost.
Clearance Fees
These are approximate, they do tend to vary a little depending on which agent you use:
Entry Fee for Private Yachts (Authorization Government Council): Approx. 142 USD per vessel
Port Captain: 10 USD x Gross Tonnage (estimated fee)
Port Captain Entrance Fee (1st port in the Galapagos): 47 USD
Lights, buoys and anchorage fee: Approx. 70 USD
Immigration (Galapagos Migratory Card): 20 USD per person
Immigration check-in fee: 15.60 USD per vessel
Immigration check out fee: 15.60 USD per vessel
National Park Entrance Fee: 100 USD per adult
National Park Entrance Fee: 50 USD per child (under 12 years)
National Park Technical Hull Inspection: 50 USD x no. of crew members
Biosecurity / Sanitary Inspection: 100 USD per vessel
Biosecurity / Sanitary Inspection: 200 USD (for larger vessels)
If you have an "Autografo" and sail from inhabited port to inhabited port, there are local arrival and departure fees.
Local Arrival Zarpe: 15.75 USD
Local Departure Zarpe: 15.75 USD
Overtime Fees
Overtime must be paid outside office hours, 08:00-17:00 Monday to Friday, at weekends or during local holidays. The overtime fees are almost double the normal fee. Request that your agent complete clearance DURING office hours.
National Park Cruising Fees
This is 200 USD per person, per day. You will hear this high dollar figure quoted occasionally. This daily fee DOES NOT apply to the average cruiser who is moving from island to island, anchoring in the major ports. It only applies to yachts who want to actually cruise the park areas outside the major ports.
These boats are also required to take on a licensed guide who will cost between 250 and 350 USD or more per day. The highest costs are charged for the more knowledgeable and private yacht experienced multi-lingual guides.
Fumigation Fee
A fumigation fee of 70 USD may be charged on boats that stay longer than 72 hours. If yachts arrive without a fumigation certificate, the fee to obtain one in the Galapagos is 4 USD per meter of the yacht's length.
Other Fees
Municipal fees are occasionally collected in the main ports and always collected from incoming passengers at one of the two airports.
Garbage disposal: 30 USD
Tours cost between 100 – 200 USD per person per day
Water taxis: Maximum of 2 USD/adult, 1 USD/child per ride (use of dinghies is not recommended).
All fees quoted here are in USD and are subject to change by the Ecuadorian government without notice.
Last updated: April 2019
Restrictions
Environmental Risk Assessment
In January 2014, the Galapagos National Park received ministerial approval to make law its rules applying to the arrival of foreign boats in the Galapagos Marine Reserve. The changes give the approval to conduct an interview with the captain on arrival to complete an environmental risk assessment of each boat.
The assessment of risk is now known to include an inspection of the hull of each boat with a diver from the GNP. The inspection could simply be a look from the surface, a snorkel of your hull or an actual dive with tanks – it seems to be luck of the draw. It is advisable to have your hull thoroughly, perhaps professionally, cleaned before departing for the Galapagos and, if possible, to have a certificate to show this has been done. To be extra sure, weather permitting, jump in and give the boat a final clean 50 miles offshore. Filming the cleaning and taking pictures will also provide proof that your boat is not a problem.
The cost of this is borne by the visitor and the fee is $50 per person on board. The ministerial approval also gives the GNP the authority to demand that if a yacht fails to meet their requirements (a reasonable level of risk), they must leave the Galapagos Marine Reserve. If assessed (and it can take up to 3 days to know if you have passed or not), you may be required to exit the marine reserve (40 miles offshore), at your own expense, carry out remedial cleaning work on your hull and re-enter.
Other Restrictions
Yachts are forbidden to anchor anywhere but in the official ports on each island and each of these places must be listed on your itinerary. Plan carefully as you may not be allowed to back-track.
NOTE: The National Park area and Marine Reserve extends 40 miles out from a line drawn between the outermost point of each island.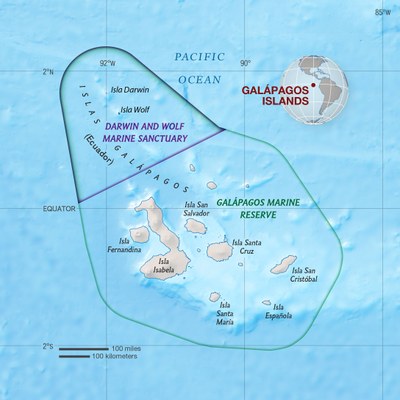 Map © National Geographic Society
Vessels arriving in Galapagos entering the protection zone established by law, i.e. 40 nautical miles from the baseline, are subject to regulations governing the transport of products that may endanger Galapagos.
Only waste for recycling can be left on the islands. This is not collected from boats (except in Puerto Ayora) and must be taken by taxi to the recycling center and paid to be disposed of. All waste on board must be separated into organic, recyclable and trash.
In order to prepare your waste properly en-route to the Islands, read this article by the WWF on how to reduce your human footprint.
Lifejackets must be worn when using a dinghy.
The following sites are those that can be visited on your own without a day tour or certified Naturalist guide on the three main islands:
San Cristóbal
Centro de Interpretacion
Cerro Tijeretas
Carola Beach
Playa Mann Beach
Loberia Beach
Puerto Chino Beach
Laguna El Junco
Galapaguera: Tortoise Center
Santa Cruz
Media Luna (highlands – The tortoise reserve)
Las Grietas
Tortuga Bay
German Beach
Playa Punta Estrada
Isabela
Beach next to the main dock
Concha de Perla
Centro de Crianza
Flamingos Lagoon
Muro de las Lágrimas
Las Tintoreras
Fuel:
See Yachting Essentials.
Drones:
Drone use is banned in the Galapagos unless you have a permit that allows you to use drones for commercial purposes or research. Operators with a permit must ensure that the laws are obeyed when flying in Galapagos.
General Rules:
Only visit protected areas within the Galapagos National Park accompanied by a GNPD authorized naturalist guide.
Stay on the trails. The trails at all visitor sites are very well marked and your guides will make sure you follow this rule. It helps preserve the natural habitats and keeps both you and the wildlife safe.
Stay at least 6 feet away from wildlife (even if they approach you). This is the best way to avoid disturbing them.
Never give food to any wildlife.
No smoking.
Last updated: April 2019
Clearance Agents
Pets
There is no national or international law that prevents a sailboat from having a pet on board during its stay in the Galapagos. While on board, with its proper documentation, pets can remain in non-protected areas without any problem.
The pet can not go ashore under any circumstances.
By law when you enter the Galapagos under the Autografo, a sailor may not bring any living plants or living animals into the protected areas.
Previously this law had been relaxed/overlooked to accommodate pets which were quarantined to their yacht while in protected areas. However, in 2018 a yacht disregarded these laws: they disembarked their dog on a paddleboard and paddled around the bay. They also took pictures, made videos and posted on Facebook, Instagram, etc.
As a result – 'no pets' in protected areas – is now being strictly enforced by both the authorities and locals.
For boats in transit or making an emergency stop, pets may still be quarantined (at the discretion of the authorities), but some agents are advising against all pets.
Last updated:  April 2019