Previous Page
General Info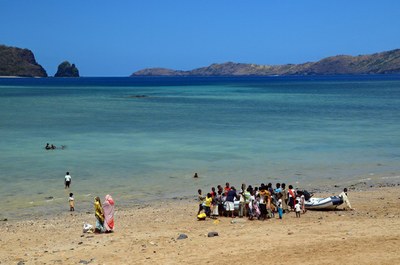 Moheli Marine Park
Many yachts visit Moheli for the marine park along the south coast (photo courtesy of www.sailingtotem.com).
This is the first protected area in Comoros and encompasses nearly half the coastal waters off the island of Moheli.
Yachts are permitted to go directly to the marine park after clearing at a port of entry and do not need to clear with officials in Fomboni.
When you dinghy into the town at the South Island Marine Park you will probably be met by officials on the beach and asked to visit the police with your clearance paperwork. They speak basic English only, but you should not have any problems. It is not advisable to leave your dinghy unattended on the beach.
There are only very small shops here with basic local staples. Minimal produce. It's likely fishermen will come to boats anchored in the park with fish, octopus, lobster and more.
See SV Totem's report of a visit here in September 2015 for further details.
Position:   12° 24'08″S, 12° 24'08″S (Moheli Bay)