Previous Page
General Info
COVID-19: OPEN PORT

See Biosecurity for yachting protocols.

Description
The Salomon Islands, south-west of Blenheim Reef. lie in the northern part of the Chagos archipelago. The islands are east of Peros Banhos.
Cruiser Highlights
These islands are one of the most popular anchorages in Chagos and fortunately are one of those that are be permitted by the authorities for visiting yachts (Ile Boddam and Ile Fouquet/Takamaka). In spite of being a permitted anchorage area, there are no facilities of any type ashore.
Useful Navigation Notes can be found at this report by SY YOLO, posted July 2015.
Photo Ile Boddam, Salomon Islands by Jason Trautz of SV Yolo
Location: 05° 20.02'S, 72° 14.32'E (center of atoll).
Clearance
The BIOT Authorities visit regularly to check yachts' permit papers.
See BIOT Formalities for full details on applying for a permit and clearance procedures.
Docking
The Salomon Islands offer the best all-around protection in the archipelago. Several boats were anchored there in safety when a tropical cyclone passed close by in May 1993, producing winds of up to 50 knots. Although fully fledged cyclones are not known to have passed over the archipelago directly, this incident served as a timely warning that even areas that are considered to be lying outside the known cyclone area should be treated with great caution during the cyclone season.
The boats anchored at Salomon normally monitor VHF channel 69.
Salomon, Ile Boddam
Southwest of a line between Iles Diable & Poule.
W (Diable) 5 deg S 21.05 / 72 deg E 12.51
E (Poule) 5 deg S 21.45 / 72 deg E 13.17
Salomon, Ile Fouquet / Takamaka
Southeast of a line from mid-Takamaka to the SE tip of Fouquet.
N (Takamaka) 5 deg S 19.73 / 72 deg E 15.94
S (Fouquet) 5 deg S 20.64 / 72 deg E 15.40
When anchoring off Takamaka/Fouquet, always keep in mind that sudden violent squalls from the NW can occur anytime. See "Warning about Salomon Atoll" adjacent for further details.
There are wells on both Takamaka and Boddam Islands. The water can be used for laundry, but it must be treated or boiled if used for drinking. BIOTA do not advise the use of the wells.
All rubbish must be removed and taken with you. There are no facilities to dispose of rubbish on the islands and rubbish must not be burnt.
The coral patches and reefs in the approaches to the ruined dock at Boddam (next to a large cross) have been marked with white buoys. Because of many isolated coral patches throughout Salomon atoll, the lagoon should be crossed only in good visibility.
Salomon Atoll – Moorings near Boddam Island
Useful notes on mooring options and tackle required by SY Adina who visited in 2016.
Another report by a cruiser who visited in 2017.
Last updated September 2017.
Courtesy Flag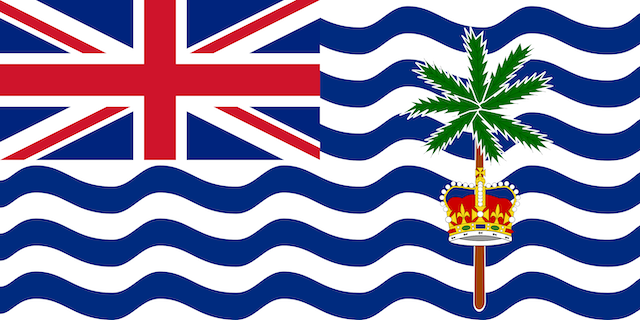 YachtFlags.com offers a discount to Noonsite members.
YachtFlags.com provides high quality courtesy flags that are manufactured in durable Knitted Polyester fabric. Knitted so that the fabric itself does not deteriorate in the constant movement that marine flags are usually exposed to, and polyester so that the flag does not weaken in the strong UV-light usually found in the main sailing areas of the world.
Use the coupon code NOONSITE_5A2B when checking out to get 10% off today.
Buy Now On YachtFlags.com
Places