Previous Page
Clearance
Prior to Arrival
The SailClear advance web notification service for clearance is now operational here. Completing the online forms prior to checking in may save a lot of time at Customs. For a full explanation of this service and other web clearance services in the Caribbean see report: Eastern Caribbean Cruising: Clearance Procedures Simplified.
A Yacht Pre-Arrival Information Questionnaire needs to be completed online at http://www.marops.bm/of_visitingyacht.aspx, or downloaded and emailed to [email protected] or faxed to Bermuda Maritime Operations on fax no +1 441 297 1530.
All yachts must contact Bermuda Harbour Radio prior to arrival on VHF Channel 16 giving an approximate time of arrival and any special requirements. The first contact should be attempted when 30 miles from the Island. The station is on call 24 hours on 2182 KHz, 4125 KHz, and VHF Channels 16 and 27.
A 24-hour radar/AIS watch is also kept and unidentified vessels are called up, especially if they approach too close to the reef. The radio station will direct a yacht where to berth and how to proceed for clearance.
On Arrival
All vessels must proceed to the Customs dock at St. George's Harbour for clearance. The Q flag must be flown.
Yachts entering between the hours of 24:00 and 08:00 will be directed by Bermuda Harbour Radio to anchor in Powder Hole, in the south-eastern section of St. George's Harbour. Vessels must remain within this quarantine zone until 08:00 and are then required to proceed to the clearance facility for the completion of formalities.
St George's is entered through the Town Cut channel.
The Customs dock is located on the Northeast corner of Ordnance Island (on the starboard side of the main channel, 500m after the exit of the Town Cut). Yachts must be moored in front of the Customs building for clearing both in and out, usually under the bows of a large cruise ship. Beware that the inter-island high-speed ferry docks upstream from the Customs dock so maybe manoeuvring in the area.
The Customs dock only has posts and no cleats so for ease of docking make large bowlines in your mooring lines and be prepared to tighten them on board. It is unlikely you will be offered help with your lines.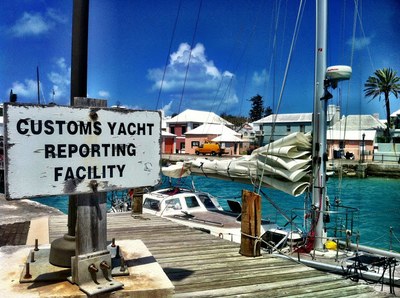 The captain should have a copy of the pre-arrival form ready and the completed declaration of health form. Latest reports are that consumable stores list and crew lists are no longer asked for.
The Customs boarding officer, who normally carries out clearance for all three departments, brings all documents required for clearance on board. The officer will also collect a passenger tax of $35 USD from each person on board.
Customs normally monitor VHF Channel 68.
Yachts stopping elsewhere will be escorted to St George's and may be fined by Customs. After clearance yachts may then proceed to Hamilton or elsewhere in the archipelago.
Clearing Out:
If there are no crew changes, it is not necessary to take your yacht to the Customs dock on clearing out. Simply dinghy over to do the necessary paperwork. After clearing out you must leave within the hour!
Last updated:  October 2018
St. George Yacht Reporting Center
Immigration
All visitors must hold a valid, machine-readable passport (including US nationals).
Nationals of the following countries require a visa:-
Albania, Algeria, Armenia, Azerbaijan, Belarus, Bosnia-Herzegovina, Bulgaria, China (People's Republic of)*, Cambodia, Croatia, Cuba, Czech Republic, Georgia, Haiti, Iran, Iraq, Jordan, Kampuchea (Cambodia), Kazakhstan, Kirghizstan, Lebanon, Libya, Macedonia, Moldova, Mongolia, Morocco, Nigeria, North Korea, Pakistan, Romania, Russian Federation, Slovakia, Slovenia, Soviet Union (former), Sri Lanka, Syria, Tajikistan, Tunisia, Turkmenistan, Ukraine, Uzbekistan, Vietnam (North and South), Yugoslavia (former) and Yugoslavia (Serbian Federal Republic of).
These are obtainable from a British embassy or consulate. Visas are valid three months from the date of the issue. However, recent changes now allow yacht crews with a machine-readable passport and a multi re-entry visa (MVR) for the United States, Canada or the United Kingdom, to apply by email for a visa waiver in advance of arrival. An application letter should be sent to the Compliance Section, Department of Border Control, [email protected] or [email protected] together with copies of the passport data page and the MRV.
Visas are not required if any of the above are permanent residents of the UK, USA or Canada.
The initial maximum period of stay was increased on June 1st 2011, from 21 days to 90 days for visiting yachts and their crews.
Extensions for up to a further 90 days (for during the hurricane season for example) will also be permitted on application to the Department of Immigration in Hamilton (Tel. +1 441 295 5151). For extensions, crew members will not only need to provide proof of citizenship but also the means to repatriate themselves by air. They will also need to prove they are covered by health insurance and make a declaration that they will not seek or take up employment in Bermuda.
Persons who require visas to enter other countries they are sailing to after Bermuda must already have them. This applies particularly to yachts leaving Bermuda for the USA.
All visitors arriving by air are required to show a return air ticket. To avoid this for crew members arriving or leaving by air on one-way tickets, the captain or owner of a yacht must write to the Chief Immigration Officer, Department of Immigration, Ministry of Home Affairs, POB HM 1364, Hamilton HM-FX (Tel. 295-5151) well in advance giving the name, address and nationality of any crew member, also details of the airline, flight number and date of arrival plus monies for the landing permit. The latter will be sent to the captain and it permits the purchase of a one-way ticket (otherwise travel agents or airlines will not issue one). The permit must be shown on the entry. If time is short, the captain can telephone with the crew details. In such cases, the crew may have to buy a return ticket, but once the permit is issued, one can get a validation from the Chief Immigration Officer to allow a refund to be obtained.
When arriving by yacht and leaving by air, the crew must have written proof from the owner or captain of their means of departure. The responsibility to ensure that such crew leave the island rests with the captain.
Last updated in April 2017.
Customs
All firearms and ammunition must be declared on arrival to the Customs officer, who will either impound them until departure or seal them on board. Firearms include spear guns, Verey pistols and flare guns.
All medically prescribed drugs and medications must be declared on arrival.
Fruit and vegetables from other countries are prohibited imports so must stay on the boat.
Yachts can stay up to six months, after which time Customs will impose a duty of 33.5 per cent on the yacht's value. However, under special circumstances, the Collector of Customs may grant limited extensions if, for example, the yacht required or was undergoing repairs, if there were weather delays, injured or sick crew members or, indeed, for any other reason that the Collector of Customs considered valid.
Last updated in April 2017.
Health
Medical facilities are good but insurance is essential as treatment is expensive.
Fees
There is a passenger tax of $35 USD for each person on board.
If only visiting for a short time there are no other fees. No charge to clear out.
The fee for an extended stay of up to 3 months cost $250 per person. You will  need to provide:
Proof of citizenship
Financial means to repatriate yourself by air (if required)
Proof of health insurance
A declaration not to seek or take up employment in Bermuda
An extension for a further 3 months costs $100.
Last updated:  November 2018
Restrictions
Berthing for yachts is prohibited at all commercial docks in Hamilton and St. George's, except in an emergency.
No spearfishing is permitted within one mile of any shore. Outside the one-mile area, only Hawaiian sling-type devices may be used when free diving. Spearfishing with scuba gear is not permitted. Spear guns may not be used in Bermuda or imported at any time.
All firearms must be declared and will be stored ashore until departure.
All yachts should be fitted with either holding tanks to contain sewage for discharge in waters outside the outer reef edge or have U.S. Coast Guard-approved marine sanitation devices aboard. However, wherever possible, onshore sanitation facilities should be utilized. The discharge overboard of sewage, or any other pollutant within the 12 mile Bermuda Territorial Limit, is an offence, and offenders will be prosecuted. Details are provided in this DENR brochure.
Yachts must adhere strictly to berthing instructions on arrival and should not proceed to any berth or anchorage unless directed to do so by Harbour Radio or the Harbour Master. Boats wishing to shift berth or sail must receive prior clearance as above.
Pets
All animals (this includes birds and fish) arriving in Bermuda are required to be accompanied by health documents as well as an Import Permit issued by the Bermuda Department of Environmental Protection in advance. See here for the application forms. They are also available from any Bermuda tourist office. Animals arriving without proper documentation will be refused entry and will be returned to the point of origin at the owner's expense, as there are no quarantine facilities in Bermuda.
For further information see Importing animals into Bermuda.
Last updated:  October 2018
Bermuda Department of Environment Protection