Previous Page
General Info
COVID-19: OPEN PORT
See Biosecurity for yachting protocols.
Description:
Vlore is about 50NM south of Durres and is Albania's second largest port. The port itself lies about five kms (three miles) from the centre of the town. The town has little charm, however it is a good place to re-provision with several good supermarkets.
Entrance Notes:

Vlore Harbor Master can be reached on VHF Ch. 12.

Position:
40°26′ 58"N, 19°29′E.
Clearance
See Albania Formalities for detailed Clearance Information.
On entering Albanian waters, call the Port Captain on their working channel of VHF 15 or on 16 (he speaks English).
Proceed to the main Vlore port.
Orikum Marina may also be able to deal with clearance formalities, contact the Manager in advance to confirm.
At Vlore Port, arriving yachts are directed to a berthing point on the commercial dock for clearing in (most likely alongside a tug) and requested to come to the official offices on shore, located between the two jetties, to deal with formalities. Clearance is required with Port Captain and Police.
Officials here do prefer you to use the services of an agent (50-60 Euros). See Albania Clearance Agents for details of the official Vlore agency.
Cruisers report that security here is poor and it is recommended to keep someone onboard when leaving the boat. See further comments from cruisers at bottom of page regarding fees payable here.
Last updated: March 2017.
Related Businesses
Agent Samer & Misa Sh.p.k.

Address: L.3, Sheshi 'Liria', Egt Tower, 5th floor, Durres, Albania, 2001

These agents operate in Saranda, Durres and Vlore.

... Read More

Interalba Logistic, sh.p.k

Address: Rr. Taulantia, Durres, Albania,

These agents operate in Durres, Vlora and Saranda.

... Read More

Vladimir

Address: Vlore, Albania,

This clearance agent has been recommended.

... Read More
Docking
Vlore has a well-protected fishing harbour called Triport, now unfortunately badly silted up and impossible to enter by keelboat. It does not accept yachts. The entrance into nearby Vlore lagoon has also silted up, making access impossible.
Smaller than Durres, Vlore is busy with ferries to and from Italy and the commercial harbour affords little shelter. Note that Vlore harbour is orientated around commerce with large rubber tyres as the harbour fenders on the commercial dock. Mooring here for clearance can be difficult due to the steel reinforcements which project from the piers. Alternatively, you may be asked to moor alongside a tug. It is also possible to anchor off the ferry port in five meters off the East Pier.
In southerly or westerly winds, it would not be a good place to be for too long.
(photo from Orikum marina website)
The Orikum Marina, at the south end of the bay, comes recommended by cruisers. This is part of a new apartment/hotel complex. Entrance into the marina from the north is difficult to visualise as it looks as though one is sailing towards a brutish concrete wall, and only a sharp turn to port at the last minute has the marina entrance opening up. It may be advisable to check the entrance out by dinghy first. There is a green flashing light on a pole at the head of the low breakwater and a red flashing light on a red buoy to mark the port side channel limit.
The entrance channel to the marina is reported to be 2.7 to 3.0 meters deep. The manager is called Luigi and is an Italian. Take care as the shallows are badly marked.
There is a good, sandy anchorage just east of the lighthouse off the headland opposite.
There are restaurants on the beach within walking distance, but the small township for any provisioning is about three kms (1.25 miles) away.
Last updated: April 2017.
Related Businesses
Harbour Master's office

Address: Vlore, Albania,

Marina di Orikum

Address: Orikum, SH8, Vlore, Albania,

Lat 40° 20.539'N Long 19° 28.295'EStaff are friendly and helpful. Moor stern-to. Toilets and showers, water and electricity. Internet (occasionally). Provisions - about one kilometer... Read More
Courtesy Flag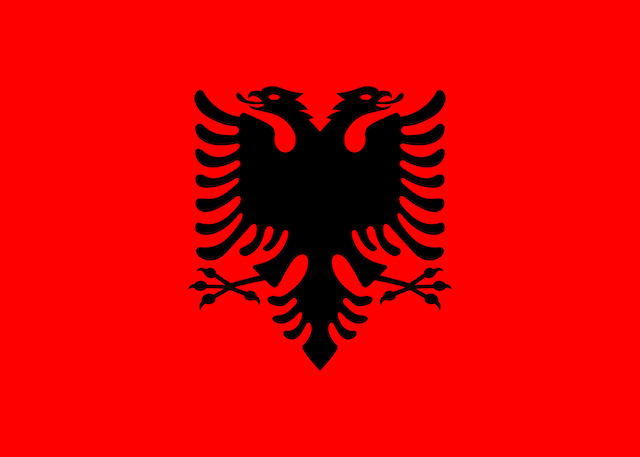 YachtFlags.com offers a discount to Noonsite members.
YachtFlags.com provides high quality courtesy flags that are manufactured in durable Knitted Polyester fabric. Knitted so that the fabric itself does not deteriorate in the constant movement that marine flags are usually exposed to, and polyester so that the flag does not weaken in the strong UV-light usually found in the main sailing areas of the world.
Use the coupon code NOONSITE_5A2B when checking out to get 10% off today.
Buy Now On YachtFlags.com
Places