World Cruising Club: December Update
Previous Page
News Intro
With a new Managing Director taking the helm and a host of seminars, rallies and events, 2023 promises to be a busy year for the team at World Cruising Club.
Last Update - December 30, 2022
News Item Content
World Cruising Club E-News – December 2022
………………………………………………………………………………………………………………………………………….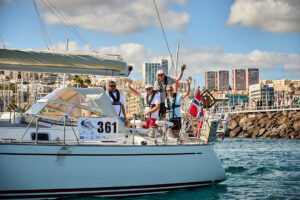 From January 2023, Andrew Bishop hands over the helm to new Managing Director Paul Tetlow and his wife Suzana and the New Year kicks off with the first of two World ARC starts and the 2023 edition of ARC January. The WCC team will also be at boot Dusseldorf running a special ARC Seminar Day and welcoming sailors to our stand in Hall 10 daily.
Into February, we have joined forces with North Sails to offer a special Open Day for bluewater cruisers at their loft in Gosport, UK, and the World ARC fleet sailing into the Pacific will set off from Saint Lucia. The spring continues with a return of our in-person Bluewater Cruising Seminar in March, preparations for ARC Europe in May and a sell-out ARC Portugal in June. For those looking for a boat to take them on their next ocean sailing adventures, we will be back at Berthon in Lymington on 10 June for the return of our in-person boat showcase at the Bluewater Weekend.
………………………………………………………………………………………………………………………………………….
ARC Seminars in 2023
Our seminar programme is back on for 2023, with in-person events at Boot Düsseldorf in January, an Open Day at North Sails, and our popular Bluewater Seminar in March and the Bluewater Open Boat event in June. Look out for updates in our newsletters and website.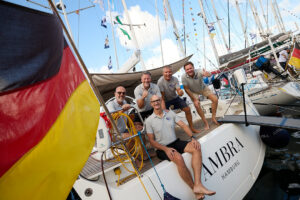 ARC Seminars at Boot Düsseldorf
ARC Seminar 21 January 2023, Halle 10.1 (dual sessions in English and German).
We are back at Boot Düsseldorf for the 2023 boat show (21-29 Jan) on stand 10E30. The first day of the Show is ARC Seminar Day, with a range of seminars and presentations in English and German about the ARC and World ARC, routes and equipment preparations.
………………………………………………………………………………………………………………………………………
North Sails Bluewater Open Day – 04 February 2023, Gosport UK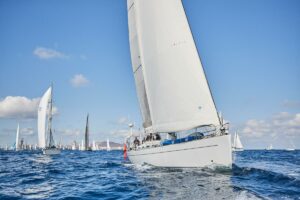 We have teamed up with experts from North Sails for a loft open day where you can share their knowledge about bluewater sail inventories, sail care/repair, different furling systems and sail cloth types. There will also be a chance to look at the full range of safety equipment required for the ARC and ask questions with experts from Ocean Safety. Limited space, early booking advised.
………………………………………………………………………………………………………………………………………
Save the Dates!
ARC Bluewater Seminar: 25/26 March 2023
Open to all, the seminar is perfect for those considering the transition from coastal cruising to blue water passage making. Lecturers have been chosen for their wealth of knowledge in their specialist fields including refitting a yacht for offshore cruising, communications equipment choices, sourcing and interpreting weather forecasts and heavy weather sailing techniques. The weekend will comprise a series of presentations made by industry experts, as well as opportunities for one-to-one discussions. A select number of companies will provide a mini exhibition of relevant equipment and services, with the opportunity to discuss insurance, liferafts and other useful issues.
ARC Bluewater Open Boat: 10 June 2023
Hosted in association with Berthon International, our Bluewater Open Boat event is for sailors who are aiming at going offshore cruising and want to know what to look for when choosing a bluewater cruising boat. For those in the boat search phase of their count-down to offshore cruising, there's plenty of knowledge to help make the right choice of boat, plan a refit, and manage the costs of cruising, as well as meeting and mingling with experienced bluewater cruisers to share knowledge and gain inspiration, all in a relaxed, friendly atmosphere.
………………………………………………………………………………………………………………………………………
Making memories and earning red trousers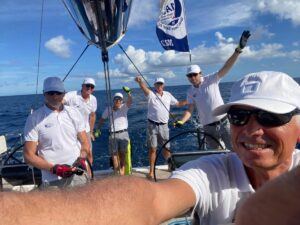 In November, over 230 boats set off from Las Palmas de Gran Canaria with some 1200 crew joining the ARC+ and ARC rallies. Full programmes of seminars, tours, environmental projects and social activities ignited the rally camaraderie, with both fleets setting off well-prepared for their ocean crossings. The ARC+ fleet enjoyed a perfect start for their first leg sail to Mindelo, Cape Verde when they departed on 6th November, with more of a swell introduction to ocean sailing for the ARC fleet sailing directly to Saint Lucia when they joined the fray on 20 November. At-sea, the spirit of the ARC really came alive with the fleets rallying around when called – read the story of the Pipeline Across The Atlantic as ARC crews came to the aid of dismasted Take Off.
The arrivals atmosphere in Camper & Nicholsons Port Louis Marina where the 10th edition of ARC+ made landfall and in IGY Rodney Bay Marina for the ARC has been electric with emotional reunions and plenty of fun in the sun – read more on the rally news pages. The Prizegiving for ARC+ in Grenada concluded the six-week rally on Thursday 8 December, just as the majority of ARC yachts were beginning to make landfall 130 miles north in Saint Lucia. The ARC wrapped up on Saturday 17 December, with an unforgettable celebration.
2022 may not be remembered for record-breaking crossing times, but it will be for the hallmarks of rally spirit that make the ARC so special.
Experience it for yourself – Entries are now open for the November 2023 editions of the famous Atlantic Rally for Cruisers. Demand from the global cruising community is strong so we recommend early registration to secure your spot for next yea
Click Here to Request an Information Pack for 2023

………………………………………………………………………………………………………………………………………
World ARC – Ultimate Adventures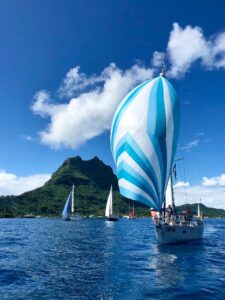 Exciting times are ahead for a multitude of international crews set to embark on the adventure of a lifetime with the 2023 editions of World ARC – the 'Circumnavigators' and those sailing 'into the Pacific'. The rally is about more than simply sailing around the world and visiting amazing places; it's about the people. Crews on board cover a range of ages, nationalities, backgrounds and aspirations but all share an adventurous spirit. Do follow the fleets on the World ARC website and Facebook page for the latest updates of their adventures.

We recently assembled some World ARC veterans to share their experiences of the rally in Las Palmas, and recorded their discussion. Watch the video combining an in-depth look at the benefits, schedule, costs, and schedule for World ARC, with some great insights and tips from those who have been there and done it. Entries for the 2024 World ARC are open and filling fast. To find out more, or book your space, click below.
Meanwhile, the 2022 World ARC fleet arrived in Richards Bay, South Africa, and are enjoying their Christmas break from sailing after their crossing of the Indian Ocean. Crews will now take the opportunity to explore the many attractions of South Africa before the restart from the iconic Table Bay in Cape Town in January. Completing their circumnavigation, the fleet will visit Namibia, St Helena, Brazil, and Grenada before returning to Saint Lucia in April.
Request an Information Pack for World ARC 2024

………………………………………………………………………………………………………………………………………
A fun-filled West-to-East Atlantic Crossing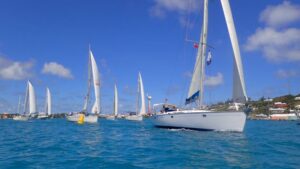 Our Caribbean to Europe route – ARC Europe – has been running almost as long as the original ARC, helping get cruisers from West to East across the Atlantic. It kicks off from Sint Maarten in the Caribbean Leeward Islands and heads to Bermuda where boats from the US and Bahamas can connect with the fleet. The 1800NM passage from Bermuda to the Azores takes around two weeks and the rally includes a chance to explore these beautiful Atlantic islands before the final stage to Lagos in southern Portugal.
ARC Europe 2023 – Entries Now Open – Start: 6 May 2023 from St. Maarten

………………………………………………………………………………………………………………………………………
ARC Portugal – Launchpad to the Cruising Life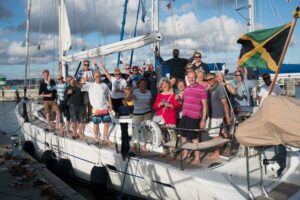 Heading south with ARC Portugal has long been the start of a cruising adventure for many sailors, whether aiming for the start of the ARC or a life afloat cruising in the Mediterranean sunshine. Its unique combination of an ARC-style Biscay crossing as a fleet, together with cruising in company along the coast of Portugal offers a special experience and lifelong memories. Its final destination at Marina de Lagos provides a great base for exploring the Algarve, or some rest and refit before heading into the Med or south to the Canary Islands.
2023 is currently fully subscribed and a waitlist has been started for those looking to sail south in June.
Entries full – Join the waitlist – Start: 4 June 2023 from Plymouth, UK.

………………………………………………………………………………………………………………………………………
Andrew Bishop Steps Back
New WCC Managing Director Paul Tetlow (left) farewells Andrew Bishop.
Having been involved with running the ARC since 1990, World Cruising Club Managing Director Andrew Bishop is retiring at the end of December 2022. ln an emotional speech at the ARC 2022 Prizegiving in Saint Lucia, Andrew thanked everyone who has supported the ARC and World Cruising Club during his long career with the Company. We all wish him a happy retirement as we welcome Paul Tetlow as the new MD from 01 January, 2023.
User Comments
You must register first or be logged-in to leave a comment.
No comments for this post.