USA – Hurricane Michael: Unimaginable destruction across Florida Panhandle
Previous Page
News Intro
Michael made landfall as a catastrophic Category 4 hurricane early Wednesday afternoon. Though Michael has weakened following landfall, a swath of damaging winds and flooding will continue to race northeastward through the southeastern United States into Friday morning.
Last Update - October 01, 2018
News Item Content
The center of Michael is now pushing into North Carolina with its broad area of rain from the Upstate South Carolina to Virginia and West Virginia.
Locally heavy rain may trigger flash flooding in parts of the Carolinas and East.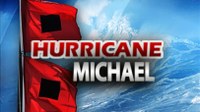 Lingering wind gusts may down trees and trigger power outages in the Carolinas and Georgia.
The center of Michael will continue to accelerate to the east-northeast through tonight across the Carolinas into southeast Virginia, then move off the East Coast out to sea as a post-tropical low.
Tornado Watch in effect for parts of Virginia and North Carolina.
Search-and-rescue teams rushed on Thursday to reach communities that Hurricane Michael leveled, hoping to find survivors of the powerful storm after its rampage through the Florida Panhandle and beyond left buildings collapsed and splintered, hospitals damaged, roads and water systems compromised and more than a million homes and businesses without electricity. Although it was clear by the afternoon that the storm had caused widespread damage, some areas remained largely cut off, and the authorities were trying to deploy rescuers by helicopter and boat.
Tropical Storm Michael Advisory 20A: Now available on the NHC website. http://go.usa.gov/W3H
Places
User Comments
You must register first or be logged-in to leave a comment.
No comments for this post.