USA, Georgia: Proposed Anchoring Restrictions
Previous Page
News Intro
(Published June 12 – further updates Aug 7, 2019) – The Georgia Department of Natural Resources has proposed a number of amendments to the current rules for liveaboard boaters, concerning over-night and long-term anchoring in the estuarine area of the state.
News Item Content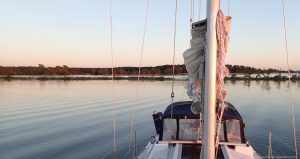 Update 7 August, 2019: While permits to anchor in the coastal waters of Georgia may still be required, cruisers won't be charged for them.
Update 10 July, 2019: Discussions continue – as reported by Cruising World.
Update 17 June, 2019: Ed Tillett, editor-in-chief of Waterway Guide attended the public hearing that addressed new anchoring restrictions in Georgia's estuarine and tidal waters and offers this report, courtesy of Cruising World.
Original Report:
The proposals are that cruisers will be restricted as to where they can anchor in the state (no areas have been designated as yet but will be published on the DNR website), will have to obtain a permit in order to anchor overnight (possibly for a nominal charge), and will have to secure the black water discharge valves and keep logs of pump-outs in Georgia (similar to what is currently required in the Great Lakes and Canada).
View the bill for more specifics.
Written public comment will be received through Monday, July 15, 2019.
Mail or email comments to: [email protected]
Kelly Hill,
Coastal Resources Division,
One Conservation Way,
Brunswick, GA 31520.
A public hearing on the proposed amendments will be held in Brunswick, Georgia on Monday, June 17, 2019, 5:30 p.m. at the Coastal Regional Headquarters of the Georgia Department of Natural Resources.
Additional information is available at www.CoastalGaDNR.org.
Click on the "News and Notices"
Notice of Rule Making for Coastal Marshland Protection and Boating Regulations
Places
Brunswick (Georgia), Savannah (Georgia), USA
Update History
07 August, 2019: Further updates from CW Magazine.
17 June, 2019: Report posted on Cruising World Magazine linked to as an update to this new bill.
10 July, 2019: A link to continued discussions on Cruising World posted.
User Comments
You must register first or be logged-in to leave a comment.