UK, USA & Germany: Ocean cruising experts share their sailing knowledge at Boat Show Forums
Previous Page
News Intro
Last Update - July 29, 2016
News Item Content
Sailing rally organizers World Cruising Club will be hosting a series of forums this Autumn set to inspire sailors to extend their offshore cruising boundaries.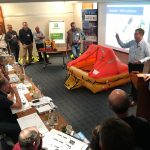 World Cruising Club Forums – September and October 2016:
Ocean Sailing Forum – Southampton, UK
Saturday 17 September 2016
Ocean Sailing Forum – Annapolis, MD, USA
Saturday 8 October 2016
Ocean Cruising Forum – Hanseboot Hamburg, Germany
Saturday 29 October 2016
Practical preparation advice for an offshore passage from ARC sailors and cruising rally experts.
Each forum will feature a panel of experienced bluewater cruisers sharing their personal experiences of sailing offshore passages and living on board, together with industry professionals giving their own practical top tips. The objective is to share their knowledge and experience in a friendly and informative way and audience members are encouraged to participate and to ask questions.
During the two-hour forums, panelists will discuss the planning and preparation required for ocean cruising, with special emphasis on WCC rallies including the ARC, Caribbean 1500 and World ARC. Topics covered include preparing your boat, selecting equipment, sail handling, life onboard, crew management, route planning, and weather. Anyone interested in sailing off across the oceans, whether you're planning for the future or almost ready to set-sail, is welcome to attend.
"It was very informative and a must for anyone thinking of undertaking bluewater cruising." Said Andy Hilton who previously attended one of WCC's Ocean Sailing Forums – 18 months on, he and his family are currently cruising in Fiji exploring with World ARC.
"A great way to connect with like-minded sailors with the added benefit of interacting with the very knowledgeable people in the sailing community. You are able to talk to them without being intimidated and it's a really friendly atmosphere," said Brian Luna who came to last year's forum in Annapolis with a general interest in learning more about offshore cruising.
Held alongside international boats shows in UK, USA, and Germany, the forums also provide an opportunity to take the panel's ideas and suggestions into the show and speak to the specialist bluewater exhibitors.
ARC organizers World Cruising Club will also be on hand following each Forum to answer questions about the world's most popular cruising rallies and all aspects of preparing to go bluewater cruising.
Full details of each forum, including venue, times and registration can be found at: www.worldcruising.com/training
Places
User Comments
You must register first or be logged-in to leave a comment.
No comments for this post.