UK: Noonsite Team presented with the OCC Geoff Pack Memorial Award
Previous Page
News Intro
Through their Annual Awards, the OCC recognises exceptional sailing achievement inside and outside the Club. The OCC Awards are presented to recipients at the time of the AGM and associate Annual Dinner, this year held on 1st April. The Noonsite team were invited to attend and receive their Award for their work online that assists cruising sailors worldwide.
Last Update - April 20, 2017
News Item Content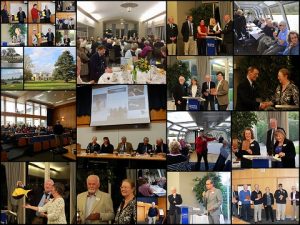 The GEOFF PACK MEMORIAL AWARD: first awarded 1997 (open to all) – Donated by IPC Magazines in memory of Geoff Pack, who at the time of his early death was Editor of Yachting Monthly and OCC Rear Commodore, this award goes to the person (member or non-member) who, by their writing in print or online, has done most to foster and encourage ocean cruising in yachts or other small craft.
In 2016, this was awarded to noonsite.com.
Unfortunately, Editor Sue Richards was unable to attend, so the team was represented by Val Ellis, Site Researcher for the last 17 years, and Chris Penny, a recently retired Research Assistant, a part of Noonsite for the last 10 years.
It was a great honour for the team to have been recognised this way by such a prestigious organisation of experienced long-distance cruisers and very gratifying to find so many of the members present were regular users of Noonsite.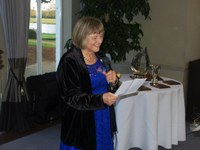 Held in Henley-on-Thames, the weekend got off to a great start with an interesting boat trip down the Thames and through the village of Henley. This was followed the next morning by several very interesting talks by OCC members. leading up to the evening Awards Dinner.
On being presented with the very handsome gold medal, which represents the Geoff Pack Memorial Award, Val gave a short speech thanking not only the OCC but all of Noonsite's supporters including the cruising community at large and the companies that advertise on Noonsite.
The weekend concluded on Sunday with a morning of informal presentations, including a "getting to know Noonsite" talk by Val, an OCC member recounting his yacht-transport experience with Peters & May (Noonsite site sponsors) and a Canadian member discussing cruising in Northern waters, ice and what is involved if planning to transit the North West Passage.
Noonsite looks forward to working more closely with the Ocean Cruising Club and continuing to share information on worldwide cruising destinations.
Ocean Cruising Club
http://www.oceancruisingclub.org
The Ocean Cruising Club exists to promote long-distance cruising in all its forms and although it is an international club, it is administered from the UK. Members are identified by a distinctive blue and yellow burgee with a stylised Flying Fish on the blue part of the flag. Membership is open to anyone either as skipper or certified as competent by the skipper, who has completed a continuous ocean passage of at least 1000 miles, measured along the rhumb line, in a vessel of under 72 feet. The Ocean Cruising Club maintains a network of over 100 Port Officers worldwide to assist members in their undertakings and publishes the journal "Flying Fish" twice a year and a quarterly newsletter. Much of the published material is available for non-members to review on the OCC website.
The OCC AGM and Awards Weekend Delights Attendees [Broken Link] – OCC Press Release
Related content
The Ocean Cruising Club Awards for 2016: Noonsite awarded The Geoff Pack Memorial Trophy
Places
User Comments
You must register first or be logged-in to leave a comment.
No comments for this post.