UK, London Boat Show: ARC Bluewater Cruisers Question Time
Previous Page
News Intro
Saturday 9 January at the FOX Bar, EXCEL, LONDON E16 1DR. Free with advanced registration. Coffee from 09:30, Forum from 10:00-12:00.
Last Update - December 26, 2015
News Item Content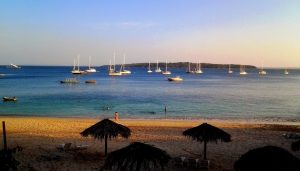 Although the World Cruising Club team will not have a stand at the London Boat Show, they will be hosting their popular forum on the first Saturday of the show.
The ARC Bluewater Cruiser's Question Time is for anyone interested in setting sail to cross the oceans, whether you are planning for the future or almost ready to cast-off.
A panel of experienced cruisers – all of whom have sailed with the ARC – will share their experience on what it is really like to sail them from the UK via Portugal and the Canary Islands to the Caribbean and back.
Discussions will include great boat gear, essential cruising tips and inspirational tales. So whether you are planning a Biscay crossing, an Atlantic passage or a circumnavigation, get some great advice on how to prepare your boat for offshore cruising.
Take the panel's ideas and suggestions with you into the London Boat Show and talk to the specialist bluewater suppliers exhibiting at the Show.
Connect with other future ralliers and meet and mingle with the panel and the team from World Cruising Club over coffee before the session and make the most of your visit.
The session is free to attend with advanced registration.
Click here to sign up [Broken Link]
Discount Tickets:
WCC are pleased to be able to offer discounted entry to the London Boat Show show by purchasing tickets online through the link below and entering the discount code JG1 at the checkout.
Click here to purchase your boat show tickets online
The offer for discounted tickets is valid until midnight 7th January.
Discover ARC Channel Islands
Saturday 9 January
13:30-15:30
RYA Lounge, EXCEL
If you would like to find out more about World Cruising Club's newest rally, ARC Channel Islands, the World Cruising Club team will be in the RYA Lounge on Saturday 9 January between 13:30 and 15:00 to answer questions about the rally and meet participants who have already signed up.
The rally, run in association with the RYA, was launched at the Southampton Boat Show in September and offers a mix of preparation advice and support from a lead boat, combined with a cruise-in-company and a great social atmosphere. Boat owners, charterers and their crews have the opportunity to enjoy many highlights that make the Channel Islands so popular with cruising sailors whilst gaining more experience sailing further afield as part of an organised event.
The first edition of the rally begins from the Premier Marina Gosport, UK on 20 August 2016 and sails to Cherbourg, Alderney, Guernsey and Jersey. Rally boats will be accompanied by a lead boat from Hamble School of Yachting – World Cruising Club's training partner.
Click here for the full route and further information
Places
User Comments
You must register first or be logged-in to leave a comment.