Spain, Vigo: Catamaran en-route to ARC start capsizes after hitting submerged object – one crew dead
The 50 foot TS 5 catamaran "Hallucine", belonging to well known ocean racer Régis Guillemot, struck a UFO last Friday evening (6 November) en-route to the Canary Islands from Southern Brittany.
Published 3 years ago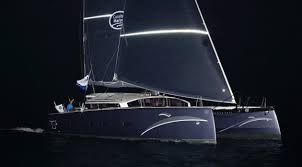 The catamaran "Hallucine" took part in the ARC in 2019 and was the first boat to arrive in St. Lucia. En-route for another attempt to beat the course record, she capsized at approximately 22:00 on Friday 6 November off the north-west of Spain (near Vigo) after hitting an unidentified floating object.
During the collision, the crew member on watch disappeared over the side. MRCC Lisbon co-ordinated a search and located the body 36 hours later.
The other two crew members and the skipper Régis Guillemot abandoned ship to the liferaft and were picked up by a freighter bound for the Azores.
Skilled sailor, Régis Guillemot has raced numerous offshore races (winner of the Route du Rhum 2002 in his category). His cousin Marc Guillemot (3rd in the Vendée Globe 2008), was his shore contact and whom he reported the accident.
"They don't understand what happened, they're in shock. The TS 5 is a very safe, very seaworthy boat. There was a little sea but no more than 16 to 20 knots of wind and they were sailing peacefully, under-canvas, with two reefs in the mainsail before the collision. They don't know what they hit, maybe a container," explains Marc Guillemot.
When the crew abandoned ship, Hallucine was full of water in the rear, the bows were pointing upwards and there was carbon debris. The Vendée Globe race director was informed of the presence of the overturned boat since the fleet was passing fairly close to the sinking area.
Further Reading:
Régis Guillemot's "Hallucine" catamaran capsizes off Vigo: one dead, three survivors
https://voilesetvoiliers.ouest-france.fr/
TS5: A sporty cruising catamaran
https://www.multihulls-world.com/