Seven Seas Cruising Association Launches YouTube Channel
Previous Page
News Intro
The Seven Seas Cruising Association (SSCA) supports the liveaboard cruising lifestyle by sharing cruising information and as a part of their outreach, is now featuring videos on a YouTube channel.
Last Update - April 27, 2021
News Item Content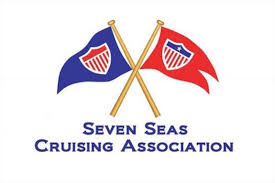 SSCA shares critical information of interest to cruisers and those who want to cruise and some of the content on the new SSCA YouTube Channel is complementary and viewable as a public service.
They include live reports from "around the world" locations, what cruisers are experiencing, passaging tips and how to utilize maritime services, and the impact of current disasters in various cruising areas.
The content is viewable by anyone – members & non-members – on the Seven Seas Cruising Association YouTube channel.

Free uploads and playlists include the SSCA Summit, SSCA Livestream, SSCA Sponsor info sessions, SSCA GAMS and events. These videos all focus on the cruising audience including the current environment cruisers face on making passage during the pandemic.
SSCA members have exclusive access to a collaborative effort by cruisers in the Pacific, Altantic and Asia with 12 episodes of the SSCA Circumnavigators Summit with the exception of several set as public view.
Seven Seas Cruising Association is also proud to introduce the new SSCA Easier & Safer Cruising Summit YouTube series.
The series focuses on Tricks, Tips, Techniques and Solutions to make cruising life easier and safer.

Watch the Introduction to the Series here.

The SCCA also have a new website making it easy to find out more about the association and explore their wealth of cruising information and resources. Go to https://www.ssca.org/

……………………………………………………………………………………………………………………………………….
Related Links:
SSCA Articles and News on Noonsite

Seven Seas Cruising Association

Places
Update History
March 2021: Information provided on YouTube Channel from SSCA.
User Comments
You must register first or be logged-in to leave a comment.
No comments for this post.