Portrait of a Cruiser: Dog Chloe from SY Mojito
For a new spin on our 'Portrait of a Cruiser' series, this month we are profiling a four-legged crew member. Labrador mix, Chloe, has just spent 18 months visiting 13 countries. At almost 12 years old she has proved to her owners Tim Goodyear and Jules Buckley that you can cruise with a dog and you can teach an old one new tricks.
Published 4 years ago
Mojito's crew
Names of Owners: Tim Goodyear and Jules Buckley, but this is a portrait of me, Chloe, the boat dog.
Nationality: USA.
My humans are British with US citizenship.
Boat Name: Mojito
Boat Type: Tayana 48
Home Port: Newport, RI
Facebook: Sailing MoFo / Instagram: sailingmofo
How did you start cruising?
Tim & Jules rescued me from a shelter in Indiana in 2008 when I was 10 months old. They lived in Boston at the time and took me out sailing in the harbor on their C&C 35 within days of my arrival, so I got used to it right away. I feel very comfortable onboard and I'm always happy to be wherever they are. When I was 10, my owners bought a long-distance cruising boat and we moved on board to cruise the Caribbean.
Describe what sort of cruiser you are: The boat is our home.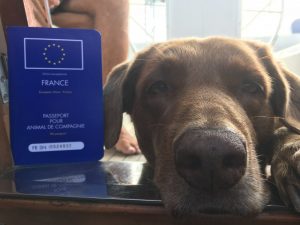 List the countries you have cruised:
USA, Antigua, Guadeloupe, Dominica, Martinique, Grenadines, Grenada, Bonaire, Curaçao, Aruba, Colombia, San Blas Islands, San Andres & Providencia, Honduras Bay Islands, Mexico.
Were there complicated pet formalities for the countries you have visited?
Before we sail to a new place, Tim and Jules are always on the computer or the phone to find out what they need to do so that I am permitted to enter the country. Sometimes they have to fill out a form, mail proof of my vaccinations and medications, then receive a pet permit signed by a government official; sometimes I need to see a vet before leaving a country so they can write a report to the new country to confirm I am healthy; sometimes I have to see a vet when I arrive in the new place before I can go ashore with my humans. In Martinique, my humans got me a pet passport which now contains all of my medical information and saves carrying around lots of papers. I guess that means I am now a 'chien'.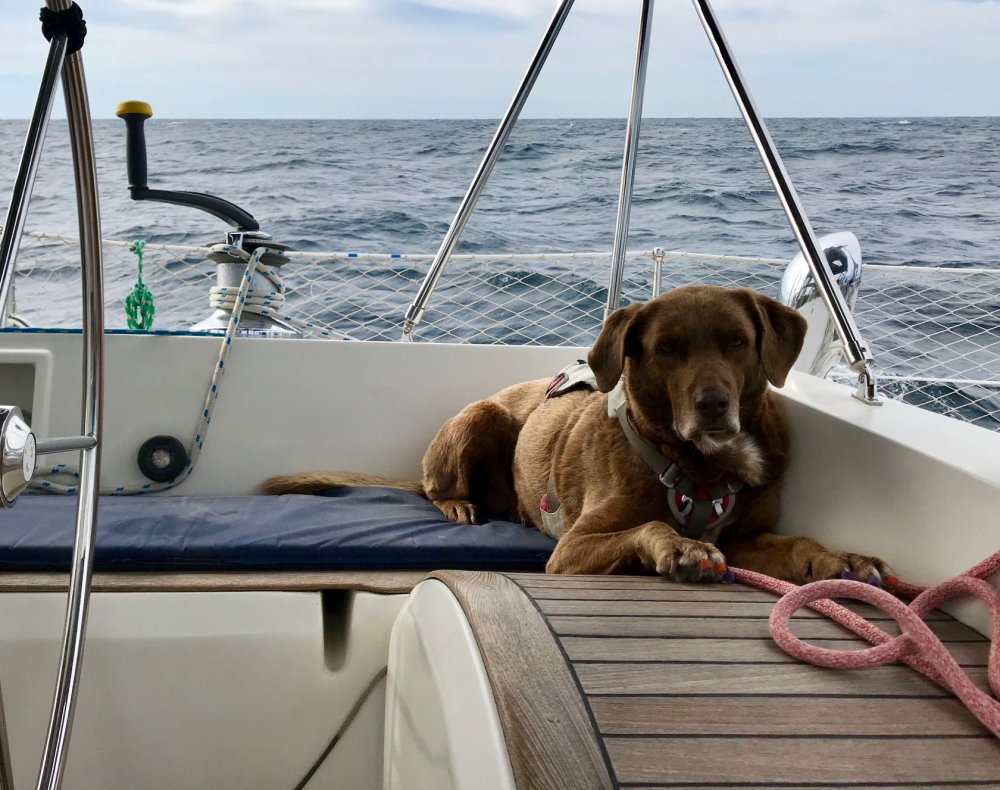 List the oceans/seas you have crossed:
I haven't crossed any oceans. My longest trip was 11 days from Hampton VA to Antigua and that was plenty long enough for me.
Approximate sea miles: 8,311 in the last two years. I think it's probably more in dog miles.
Do you get seasick?
I have never been seasick. Before we left my doctor said seasickness is caused by anxiety so I try to keep calm and relaxed when we are on passage.
What type of cruising are you doing currently?
We have been in the Caribbean for almost two years, but now we are back in New England for hurricane season. I am happy to be back in a cooler climate for a few months.
Chloe at Tobago Cays
Future cruising plans:
We will sail to the Bahamas in November where I might be able to swim with pigs – which is quite exciting. We're going to make the passage from Hampton VA with the Salty Dawg Rally; we sailed with a rally to Antigua in 2017 and I made some new boat dog friends. Then I think we will go back to Mexico, Honduras Bay Islands, perhaps back down to Panama which is not my favorite place because I have to be careful of crocodiles when swimming. Providencia is a place we really want to return to, but we have to be careful about pirates off the coast of Nicaragua so we'll need to travel with a pack.
What about the practicalities of a dog living onboard a boat?
How I sleep . . .
Sleeping – I used to sleep downstairs, but after a week in the first warm place we sailed to, I decided to sleep outside because it was way too hot down below. I have my bed in the cockpit and I can spread out and feel the breeze. Sleeping outside also means I can be on guard against any unwanted visitors during the night. Now I only sleep down below if we're in a colder place or if my humans make the boat cold inside.
Dog hair – I'm not one of these fancy, non-shedding breeds, I'm a plain old rescue mutt so, yes, I shed. I don't shed as much as I used to, probably because I've been living in warm places for so long that my undercoat hasn't grown back. Sleeping on deck helps limit the dog hair down below. It's just part of having a boat dog.
Taking the paddleboard ashore
Going ashore in my chariot . . .
Exercise – If we are anchored I take the chariot or paddleboard ride ashore a couple of times a day so I can take a walk or play with my ball or a coconut. I swim a lot too, I like to jump off the swim platform and rescue my toy.
Odors – I love to swim and I swim a lot but I don't think I am a smelly dog and humans rarely complain about me. Again, because I sleep outside, the boat doesn't ever smell of wet dog. Tim and Jules give me a freshwater shower at the end of each day to rinse off saltwater and this is also good for my skin. I always wear a waterproof collar to avoid stinky collar syndrome.
Food – Being mostly Lab, I eat anything. Pedigree brand kibble is available everywhere and vets often sell the more healthy (expensive) varieties. I take glucosamine supplements if it's not already in the food to help my joints. Jules always has a big stash of treats on board so I never run out of those because she knows if I did there would be a mutiny.
Up the swim ladder after a dip . . .
Bathroom breaks – This is a topic everyone wants to know about! It took me a long time to get used to going to the toilet on the boat. I still don't really like it. When we first moved onto the boat, Tim and Jules bought me a square of fake grass which was nice to lie on so I didn't like to use it as a toilet. They tried so hard to convince me it was okay to go onboard, they would walk me around and around the boat saying 'Chloe, do your business' but I just couldn't find a comfortable spot so they would have to give in and take me ashore.
Then when we left the USA to sail to the Caribbean I didn't really have a choice because after two days I just couldn't hold it any longer and decided it would be okay if I went right at the pointy end because we don't go there very often. And that was only a pee; it was three days before I did my first poop! I still use the same spot, but still hold out if I think there's any chance of going ashore in the next 24 hours. It can be a bit bouncy at the front when we are on passage but I wear a harness and am tethered to my humans who are tethered to the deck.
My friend lived on a catamaran and I used to love going to visit her so I could use her trampoline, so much more comfortable. Wish we would get one of those…..
Me with Captain Tim
Health – I've visited vets in many different countries either for routine vaccinations when I've been sick, or to fulfill pet permit requirements. They have all spoken English and all have been very nice and caring people – except when they approach me from behind to take my temperature. which I suppose goes with the profession. We found vet visits and medicines to be way less expensive than the USA, plus painkillers and antibiotics are available over the counter in most countries.
Scariest time while cruising:
This had to be when I got very tick fever in the Grenadines. We were in Bequia and I stopped eating and drinking, I didn't want to get out of bed, I couldn't walk very well, and I had a very high temperature. There are no vets on the island so we had to sail to St. Vincent and, of course, it was a holiday weekend so we had to wait two days before we could see a vet. I was given lots of pills to take and we moved into Blue Lagoon Marina for a few days so we could keep the boat nice and cool inside to help control my temperature. I could smell that Tim and Jules were very upset and scared that this might be the end of my adventure with them, but within a couple of days, I started to feel much better and eventually made a full recovery.
In my harness tethered in the cockpit on passage.
Have you ever fallen overboard?
No, never. It's always a worry, but my humans try to minimize the risk with lifeline netting all around the boat, making me wear a harness and tether and not letting me leave the cockpit by myself when we are on a passage.
Trying out the toe grips
The riskiest time is probably when I go to the toilet at the bow and the boat is bouncing up and down. It's a bit of a roller coaster ride and my claws don't have any grip on the deck – hence the embarrassing toe grips which even I must admit do help (see photo). If I did go overboard, it would be treated the same as any MOB; my harness is fitted with a light that activates in the water and has a grab handle.
Best cruising moment:
Any time we have dolphins swimming next to the boat. Sometimes I can smell them before my humans even know they are there. I'd like to swim with them, but I'm not allowed to jump off so I just talk to them from the bow in my friendliest bark. One time on the way from Aruba to Colombia some of them came to see me during the night and they were lit up in the water by the phosphorescence, so all we could see were streaks of light shooting through the water. It was quite magical.
Jumping off the swim platform.
Do you get in trouble for barking too much?
I consider it my job to bark if a dinghy or other small boat is approaching Mojito so that I alert Tim and Jules. They can tell by my bark if it's a friend or a stranger. If it's a stranger I don't get into trouble immediately, only if my humans want to talk to them and can't hear because I won't shut up. Most of the time I bark when I am excited, such as when we arrive in a new anchorage and I can jump off the swim platform at which point Jules always says I am announcing our arrival. Someone once said I was simply 'high on life' and I think they might be right.
I do get into trouble for barking too much when I am left alone on the boat. I absolutely hate being left alone. My humans used to leave me down below when they left me but that was horrible because I couldn't see anything even if I stood on the table or the bed and I covered everything with slobber because I was so anxious. Now they leave me on deck. They know I won't jump off, I always have shade and water, and I can keep a lookout for them.
But, yes, I bark and bark and bark. It's a sad bark because I am lonely – but I still get into trouble.
Me on Carriacou beach in the Caribbean.
Favorite anchorage:
I like anchorages that are close to a nice, dog-friendly beach so I can easily get to shore for a walk or to chase crabs. My top three favorites are probably Bequia, Marie Galante, and the West End in Roatan.
Most useful dog equipment onboard?
That has to be the swim ladder so I can get out of the sea alone after swimming (I might be an old dog but that was a new trick I learned!).
Why should dogs cruise?
Since we started cruising, my life feels like a big adventure. I never know where Tim and Jules are going to take me next. I love that I am able to spend all my time outdoors experiencing new smells wherever we go and it makes me content to be with my humans all the time. My presence often helps strike up conversations with locals who want to know about me because I look very different from local, island dogs. In the San Blas Islands, it was fun to go into the villages and make the children smile. They would follow me through the streets chattering excitedly, reach out to stroke me, and in one village some small boys took charge of my leash and proudly paraded me in front of their friends. I felt like a celebrity!
Me surrounded by kids in the San Blas Islands, Panama.
Everywhere we go I meet a new animal I never knew existed – lizards, iguanas, chickens, goats, pigs, crabs, monkeys, agoutis, and tortoises. My favorites are the ones I can chase, especially crabs until they nip my nose. Tortoises are a bit boring; I tried jumping on one to make it do something, but that got me into trouble.
Making new friends.
What advice or message would you want to pass on to any pets new to cruising or owners that are thinking about casting off the dock lines with their pets?
Encourage your humans to do it before you are too old to enjoy it. I was 10 years old when we moved onto the boat and left the land behind. If my owners had waited then they might have left me on land because they would worry I would be too old for them to manage on the boat and I might get sick too often. I am almost 12 now but I look younger and I think it's because I have a nice life with no more stressing about being left at home alone, lots of swimming which is good for my joints, and fresh fish regularly added to my kibble.
If you are regular Noonsite users and would like to take part in our Portrait of a Cruiser series, e-mail the Editor with a little bit about you and your crew at [email protected]