Panama, Linton Bay: US Cruisers Abandon Ship and Lose Boat to Fire
On their way from San Blas to Linton Bay, liveaboards Liz Lepkowski and Alan Johnson aboard their catamaran Kokopelli were forced to abandon their home of 13 years when attempts to extinguish a fire failed.
Published 3 years ago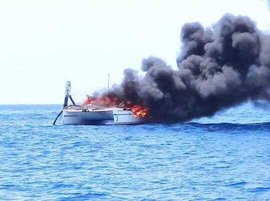 This story has been recounted in a number of places on the internet including Cruisers Network Online and various Facebook pages – this is the story in Liz's words:
To all of our cruising family, it is with deep regret that we share the devastating news of the loss of Kokopelli during our passage back to Panamarina from the San Blas on May 25th.
At approximately 12:00 local time, 2 miles east of the Magotes entrance to Linton Bay, we detected smoke coming from the interior of the portside hull.
Liz called a Pan-Pan on channel 16 and shut down the engines and killed all circuit breakers while Alan went to port to identify the source of the smoke. He attempted to extinguish the fire on the port engine/generator compartment, but it was already too hot to open the compartment and additional smoke began pouring out.
Liz called a Mayday on both the ship station and handheld VHFs on channel 16 which went unanswered and we prepared to abandon ship.
While Liz launched the dinghy, Alan went below and grabbed whatever he could of passports, clothing, water, our abandon ship bag, and EPIRB and threw them into the cockpit while Liz got them into the dinghy.
When flames began pouring out of the portside salon hatch, we abandoned ship and moved safely away from the boat in the dinghy as explosions began occurring.
We remained with the vessel after calling the marina manager to notify AeroNaval. After approximately 20 minutes, the AeroNaval arrived and took us aboard for which we are extremely grateful. We are very thankful for the assistance, professionalism, and compassion they showed in returning us safely to shore.
Approximately 40 minutes from the detection of the problem, Kokopelli had burned to the waterline and sank.
We want to express our sincerest and deepest appreciation to all of our cruising family who have been there to support us as we mourn the loss of Kokopelli, which has been our winter home for the last 13 years.
Liz Lepkowski Johnson
…………………………………………………………………………………………………………………………………..
This information has not been independently verified.