Norway: Sailing Guide for Svalbard now available in Kindle
Previous Page
News Intro
Last Update - April 10, 2014
News Item Content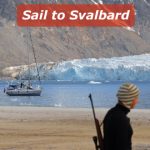 Update April 2014
John has just launched a Kindle edition (and it is updated) of his book Sail to Svalbard (reviewed below).
Go to:
http://www.amazon.com/Sail-Svalbard-Jon-Amtrup-ebook/dp/B0056GW9S4/ref=sr_1_2?ie=UTF8&qid=1396980552&sr=8-2&keywords=sail+to+svalbard
Review of Sail to Svalbard
If you want to sail in the high latitudes someday, then the new book Sail to Svalbard could be the first step in the right direction. It is the most comprehensive sailing guide for the Svalbard archipelago, with descriptions of 96 anchorages and harbours. The guide also takes you through the preparations, planning, equipment and how to apply for the permits.
"We circumnavigated Spitsbergen, the biggest island on Svalbard, last year and it was an adventure that had it all: Remoteness, ice, Polar Bears, total silence, scary moments and interesting people", says Jon Amtrup, author of the book.
The preparations, research, fitting out of the boat, acquiring permits and planning for such an adventure is extensive and the book takes you through the paces. It also has the most comprehensive harbour guide for the area. It describes 96 anchorages and harbours on the islands thoroughly.
"Svalbard is the high latitude area that is most easily reached. Tromsø to Svalbard on your own keel will take 3-4 days, and put you right among icebergs, glaciers, polar bears and stunning wildlife", says Amtrup.
Sail to Svalbard is the first and only cruising and harbour guide that focuses on the arctic area. Last season some 80 yachts came to Longyearbyen, the "capital" of Svalbard, and the number is rising fast.
"The climate is changing and the number of visitors increases with every year. If you have a dream of visiting the Svalbard wilderness I recommend that you start setting a date and begin making your plans. It will be worth it. You might even catch the polar bug!", says Jon.
You can view an online extract from the book here[Broken Link].
About the author
Jon Amtrup is an experienced offshore sailor and has cruised extensively in the high latitudes in Norway and the Svalbard archipelago. He also advises sailors on expeditions in high latitudes and weather. He has written The Harbour guide 4 Bergen-Kirkenes, and Ramsalt The history of the Shetland Race, and now Sail to Svalbard. He is also a journalist and Ocean Editor of Explorersweb.com and runs the company www.explorenorth.no.
User Comments
You must register first or be logged-in to leave a comment.
No comments for this post.