NOAA's Prediction for the 2019 Atlantic Hurricane Season
Previous Page
News Intro
(May 23, 2019) – NOAA's Climate Prediction Center have published their outlook for the Atlantic hurricane season which starts officially on 1 June and runs until the 30 November.
News Item Content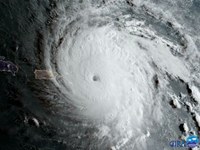 NOAA's 2019 prediction is for a near-normal outlook with between 9-15 named storms (winds of 39 mph or higher), of which 4-8 may become hurricanes (winds of 74 mph or higher).
It is also possible that 2 to 4 may become major hurricanes (category 3, 4 or 5; with winds of 111 mph or higher).
NOAA provides these ranges with a 70% confidence.
On average there are 12 named storms in a hurricane season which produce 6 hurricanes including 3 major hurricanes.
Places
Anguilla, Antigua & Barbuda, Bahamas, British Virgin Islands, Grenada, Guadeloupe, Haiti, Martinique, Mexico, Puerto Rico, Saba, Sint Maarten, St. Barts, St. Kitts & Nevis, St. Lucia, St. Martin, St. Vincent & the Grenadines, Statia, Trinidad & Tobago, US Virgin Islands, USA
User Comments
You must register first or be logged-in to leave a comment.
No comments for this post.