New Caledonia struck by massive earthquake
Previous Page
News Intro
A MASSIVE earthquake measuring 7.3 has struck off the coast of New Caledonia triggering a widespread tsunami alert.
Last Update - November 22, 2017
News Item Content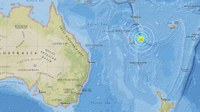 As reported by http://www.news.com.au
A POWERFUL earthquake measuring 7.3 has hit off the east coast of New Caledonia triggering a tsunami alert.
The quake struck at 9.43am, local and AEDT, at a shallow depth of 10km, 82km to the east of the lightly populated Loyalty Islands.
There was no immediate news on damage or casualties.
However, an alert from the Pacific Tsunami Warning Centre said: "Hazardous tsunami waves from this earthquake are possible within 300 km of the epicenter along the coasts of Vanuatu and New Caledonia".
"Government agencies responsible for threatened coastal areas should take action to inform and instruct any coastal populations at risk."
Tsunami waves have been observed by the PTWC in the wake of the earthquake.
The agency says waves as high as 1 metre above the high-tide mark are forecast to hit New Caledonia and smaller waves are expected in Vanuatu.
It says the actual size of the waves will vary depending on the coastline, with barrier reefs reducing wave height, and warned that the initial wave may not be the largest.
"We are a little bit scared, we have had an earthquake last night and today it was quite a big one," said Wayan Rigault, communications manager at Hotel Nengone Village on the island of Mare, which is the closest landmass to the epicenter.
Rigault said there was no immediate damage, but guests were on alert for a formal evacuation warning.
Vanuatu's National Disaster Management Office advised people in southern provinces to evacuate coastal areas for higher ground.
New Caledonia's civil security agency said it was still compiling data and was not planning to evacuate immediately.
A 6.4 magnitude quake hit the area on Sunday at 8.25pm, followed by a 6.6 shock at 2.09am and a 5.9 shock at 3.08am.
The United State Geological Survey estimated as many as 400,000 people in the nearby islands would have felt the earthquakes.
The USGS said damages and casualties where possible because structures in the region are very vulnerable to earthquakes.
Home to around 278,000 people New Caledonia consists of a string of islands and is located on the Pacific Ring of Fire, a highly active fault line circling the Pacific Ocean.
Last month the same region was hit with a 6.8 magnitude earthquake.
New Caledonia sits around 1,500km north-east of Brisbane.
Places
User Comments
You must register first or be logged-in to leave a comment.