New Caledonia: New Health Insurance Requirement
Previous Page
News Intro
By Val Ellis – Mar 28, 2019
Contributors – Audrey of Noumea Yacht Services
Without Health Insurance which includes repatriation for every member of the crew, a boat will be refused clearance.
Last Update - March 28, 2019
News Item Content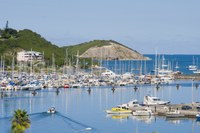 March 2019
As reported to Noonsite by Audrey at Noumea Yacht Services.
It is now a requirement that every member of the crew must have a Health insurance document which includes repatriation. The only exception is for French and other EU citizens.
Without evidence of this insurance it will not be possible for the boat to be cleared into New Caledonia and it will be refused entry.
If using a clearance agent, then you should be advised of this requirement in advance of your visit.
For full details of Clearance into New Caledonia, see the Noonsite Page Noonsite.New Caledonia/Formalities
Noonsite has not independently verified this information.
Places
User Comments
You must register first or be logged-in to leave a comment.
No comments for this post.