Mediterranean SSB Net from May to October
Previous Page
News Intro
This is an active cruising net which runs throughout the Mediterranean cruising season six days a week. Useful for sharing information on location, weather, security and passage plans.
News Item Content
Our thanks to Louise of SV Lulu for passing on this information.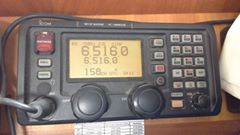 Previously known as the Dragnet, the MedNet is open for all cruisers from Turkey to Gibraltar and runs Monday to Saturday from May to October.
The MedNet broadcasts on frequency 6516 for initial check-ins. After which, the net controller moves to stations 8134, then 13259 where better propagation is often possible.
Broadcast time is 06:00 UTC (08:00 locally if you are somewhere between Gibraltar and Italy and 09:00 if you are anywhere in Greece and Turkey).
The MedNet is used for a variety of things; to share information, location, weather, passage plans and for safety during passages. It also acts as a general help forum and is a wonderful way to connect with other cruisers across what is a vast distance.
Now the MedNet also has a Facebook page: MedNet—Marine Long Range SSB Radio—for Mediterranean Sailors.
Related Content:
Mediterranean: SSB Net – MedNet (January 20, 2016)
Noonsite has not independently verified this information.
Places
Albania, Balearics, Croatia, Cyprus, France, Gibraltar, Greece, Italy, Mediterranean (Morocco), Mediterranean Coast (France), Mediterranean Coast (Spain), Monaco, Montenegro, Morocco, Spain, Spanish North Africa, Tunisia, Turkey
User Comments
You must register first or be logged-in to leave a comment.