Las Palmas de Gran Canaria: Legendary Figure "Pedro Texaco" Passes On
It is with great sadness we report that the wonderful Pedro Pérez Abrante, friend to all cruisers and a key figure in Marina Las Palmas (Gran Canaria) has passed away at the age of 82.
Published 10 months ago
Pedro Pérez Abrante (Pedro Texaco)
Better known as 'Pedro Texaco", Pedro ran the Texaco service station at the marina in Las Palmas de Gran Canaria for 46 years, from 1966 to 2012.
Pedro witnessed the growth of nautical activity in Las Palmas de Gran Canaria and as well as being a key part of the Atlantic Rally for Cruisers (ARC), he was also a point of contact for all sailors who called at the port, thanks to his passion for Canarian Lateen Sailing.
Pedro always went above and beyond what you would expect of a fuel attendant. He helped skippers dock and let exhausted crew overnight on the fuel dock, directed crew to the port police for clearance, helped with local and tourist information, delivered mail, ran errands, helped with medical aid, contacted marine tradesmen as and when they were required and so much more. Happily for those who needed him, he was on duty 24/7 days, including Christmas. If any sailors were staying aboard their boats during the festive season, he would invite at least two of them to his home to share the traditional celebration dinner on Christmas Eve.
Pedro met Jimmy Cornell a few years prior to the 1986 inaugural ARC and the two became firm friends.

Jimmy told Noonsite; "Pedro was the heart and soul of the Muelle Deportivo, the small boat harbour inside the large port of Las Palmas. His hospitality and generosity were legendary and he embraced the ARC, its participants and us, as organisers, from the very beginning. He continued to do so for many years until he stopped running the marina's fuel station, hence his nickname of Pedro Texaco. Every year on the Sunday preceding the start of the ARC he would put on a huge fiesta. It started with a raucous dinghy race in the port, which was joined by the majority of the ARC participants and culminated in a feast of grilled fish and sangria to which everyone was invited. A wonderful friend, never to be forgotten."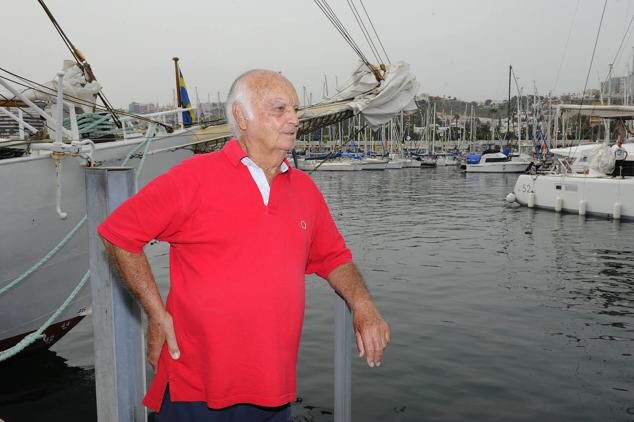 Andrew Bishop, Managing Director of the ARC today adds; "Don Pedro Texaco was for so many years the friendly welcoming face at Las Palmas Marina; he will be remembered for his enthusiasm to help visiting yachts crews on their arrival in the marina always with a smile. He spoke no English, but always understood what you needed with a wry cheeky smile, particularly when signing up visiting crews for his famous dinghy race. Don Pedro continued to be a regular visitor to the marina in his retirement, quietly keeping an eye on things. Known to so many in the wider cruising community, Don Pedro will be fondly remembered. Our thoughts are with his wife and family."

In 1992, as a thank you, the ARC skippers clubbed together to buy Pedro
an air ticket to Saint Lucia so that he could be there to meet them when
they arrived.
Proof of Pedro's important role for the Port and for the capital of Gran Canaria were the various awards he received. In 2013 he was named the adopted son of Las Palmas de Gran Canaria and in 2020 one of the port streets was named after him.
During his retirement, Pedro remained a solid supporter of the ARC; he had always been an effective advocate and, particularly in the early years, worked tirelessly to bring about the much-needed improvements that have helped to make the marina what it is today.
Pedro will be sorely missed and some might say that they don't make them like him anymore.
Pedro died on June 8, 2022.
Our thanks to World Cruising Club for sharing information about Pedro from "Wave Upon Wave" – the story of the ARC

……………………………………………………………………………………………………………………………………..
Related Links:

Fallece "Pedro Texaco", figura clave de Marina Las Palmas (TouriNews)