Indonesia Re-Opens – An Update from Sorong
Indonesia is one of the few countries that has been remarkably welcoming to yachts and crews during the COVID-19 pandemic and has just re-opened its borders. However, there are new requirements for yachts as outlined in this update from Wick Alliston in Sorong, West Papua.
Published 2 years ago
Warwick Alliston who operates EON Marine in Sorong, reports they are seeing increasing numbers of yachts coming from other parts of Indonesia as well as receiving many enquiries about cruising Eastern Indonesia from yachts that are currently crossing the Pacific. In this report he outlines the current situation in the region.
1) Visas for yacht Owners and Crew
Owing to the difficulties created by the COVID-19 epidemic, the normal visa application system for entry to Indonesia has been changed. Generally foreigners who have been traveling in Indonesia during the pandemic have been able to obtain visa extensions and – certainly during the first few months of the pandemic- —the Immigration Department showed great statesmanship and kindness in allowing extensions and changes to visas.
The current situation is that vessel crews entering Indonesia must have a Visa Type B211 A – Business Stream. The normal visas for tourism such as Social Visa, VOA, Visa exemption etc are no longer being granted. Presumably the system will revert to normal as world travel becomes safer at some time in the future. The B211A visa can only be applied for by an agent in Indonesia and costs approximately USD$600/ person. Visas applied for outside Indonesia are not granted. There is also a requirement to show evidence of a bank account in the name of the applicant that has a minimum of USD$2000 in credit (this amount varies and one account can cover for a family making an application ). A sponsor residing in Indonesia is also required.
A catamaran from Chile on the multi-purpose trailer.
Our experience is that B211A visa is granted rapidly (approx one week) and this type of Visa is granted for stays of 60 days and extendable four times for a total stay of six months ( as for Social Visa category). This creates some difficulties for cruising yachts in the remote areas when an extension must be requested every 30 days and the process time is still four to five days duration. In some areas including Sorong, some new conditions are being imposed on applicants. This includes having to stay in port while the extension is being processed. Agents are no longer allowed to hold passports or collect processed passports on behalf of yacht crews.
Also, there are new COVID-19 requirements for visa applications for Indonesia:
Visa applications must include proof of current COVID vaccination.
Statement letter in English that crew members are willing to be quarantined for eight days if infected.
Statement letter pledging willingness to undergo health monitoring during quarantine or self-isolation.
Statement letter pledging willingness to pay in case infected with Covid during stay in Indonesia.
Result of reverse transcriptase-Polumerase chain reaction (RT-PCR) negative COVID-19 tests that are still valid and can be checked using a QR-Code
Letter of permission is required for some areas in Indonesia– must be verified before entering the area.
Note: Important Change:
Permission for "emergency stops" is no longer possible without the crew holding current visas for Indonesia. Previously we have been able to assist yachts in this regard – but a recent change in the rules has made this provision much more difficult to arrange. Now, all crew members must have a current visa – even for a stop of a day or two for essential provisions.
Overall Indonesia is still welcoming of foreign yachts and it is still possible to enjoy cruising in the islands of eastern Indonesia without too many restrictions.
2) Vessel Sailing Permits ( Vessel Declaration/VD)
Vessels entering Indonesia are still being granted the three year sailing permit (known as the Vessel declaration). The procedure is simple to follow and there is no fee to be paid to achieve the Vessel Declaration permit [see Indonesia Clearance on Noonsite for details].
Renewal after three years is also possible but requires the yacht to leave Indonesian waters before returning with appropriate clearance stamps etc. from a non-Indonesian port. Dili in Timor Leste has been used successfully for this permit renewal procedure.
Note that vessels within Indonesian waters while sailing under the VD permit are not permitted to charter or engage in any commercial activity. Vessels may not be bought, sold or traded. Most yacht owners have high praise for this system that is now in its 5th year of operation.
In our experience, applications for extensions for the VD permit within Indonesia have so far not been granted and penalties for "overstay" are quite severe. The difficulties created by the COVID-19 epidemic have so far not been sufficient reason for granting extensions within Indonesia.
Tampa Garam Boat Harbor. Med style berthing and room for 20 vessels.
3) Ports of Entry
Not all ports of entry are open during the pandemic and able to receive boats that must quarantine on arrival. Consult with your agent to find out which is the best port to clear into the country at the current time based on the list from Customs attached.
4) Helena Marina/ Tampa Garam Boat Harbor
Both the EON Marine Nusantara marinas are fully functional. We nearly always have room for vessels needing to provision or refuel at Tampa Garam. The haul out at Helena Marina is now equipped with inflatable ship launch rolls… suitable to low deadrise vessels—such as the resort cargo boat pictured below.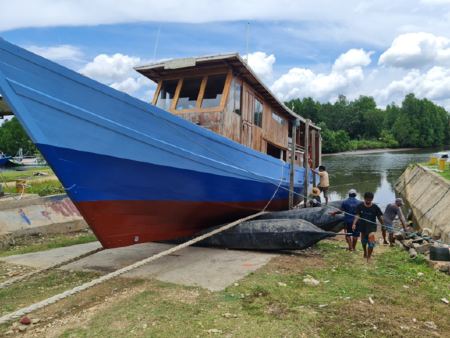 4) Covid-19 Report
While Sorong did see a spike in cases over the past 6 weeks, thankfully with a 90% recovery rate the situation is improving.
The population has started to accept vaccinations and the percentage of fully vaccinated people has been steadily rising.
In general life and business is operating normally in the Sorong area. Travel to Jakarta and on to international destinations is still possible.
It is important to mention again that yachts are welcome as long as the crews have current visas (now restricted to visa type B211a). Sorong is now open without restrictions or the need for a letter of permission, but to enter Sorong from abroad all crew must have a negative PCR test (and if coming from another part of Indonesia, an antigen test is needed).
Helena Marina riverside berths.
Note: conditions and regulations are subject to change from quarantine, harbour master, customs and Immigration. Please contact EON for the latest requirements. This also allows us to report arrivals rather than the crews having to make the rounds of the various departments.
For the latest information please contact:
Wick Alliston, Cell: +62811485371 or email: [email protected]

Ayu Saraswati, Cell: +62 82399383203 or email: [email protected]

See Indonesia Covid Protocols on Noonsite.
…………………………………………………………………………………………………………………………………………
The opinions expressed in this article are the author's own and do not reflect the view of Noonsite.com or World Cruising Club.
………………………………………………………………………………………………………………………………………….