Indonesia, Lombok: Second earthquake in a week brings devastation to the island
Previous Page
News Intro
A magnitude 6.9 earthquake has devastated areas of the Indonesian island of Lombok and comes just a week after a magnitude 6.4 earthquake also rocked the island.
Last Update - August 29, 2018
News Item Content
The Indonesian Archipelago sits on the Pacific Ring of Fire and is regularly hit by earthquakes. Lombok is a popular holiday destination, situated between Bali to the east and Sumbawa to the west and is also a regular stopover for cruisers travelling to and from Australia, Pacific and South East Asia destinations.
Following last Sunday's earthquake, cruisers should be aware that there will be areas where land-based services will have been significantly affected particularly in villages around the north of the island.
Soroya from Medana Bay Marina advised noonsite that while the marina had sustained only minor damage, the villages surrounding the marina had suffered major devastation and loss of life.
She told us, "following the earthquake, there was no water and electricity in all of Lombok. Electricity has only come back to the city of Mataram and the surrounding area. We are not sure what access to these towns and villages are like, as there was some serious landslides as well as damages to the road".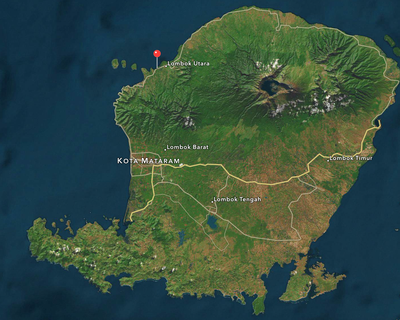 Medana Bay is situated just east of the Oberoi peninsula at the northern end of Lombok's west coast. (location pictured left marked with a red pen).
Any cruisers planning on visiting Medana Bay Marina in the near future can contact Soroya (email) regarding useful supplies that need to be brought to the island (such as clothing, blankets, medical supplies, food/water etc.).
Marina del Ray on Gili Gede, on the south-west corner of Lombok, advised there was no damage to the marina or services.
Related content
User Comments
You must register first or be logged-in to leave a comment.