Imray Launches Free Series of Nautical Themed Podcasts
Previous Page
News Intro
Nautical publishers Imray have teamed up with podcaster Ceri Hurford-Jones to offer a new series of free podcasts, covering navigation, pilotage, tides, winds and the seas, alongside tales of sailing adventures.
Last Update - November 26, 2021
News Item Content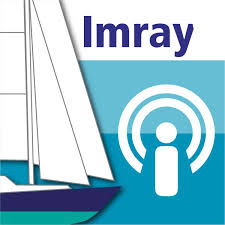 Imray is a leading publisher of nautical information for leisure sailors including electronic and paper nautical charts, high quality pilot books and cruising guides by prominent sailing authors and clubs as well as nautical information via apps.
In the series of podcasts, entitled Explore more with Imray, podcaster Ceri Hurford-Jones meets up with sailors from the Imray 'family' to explore their favourite cruising grounds, hear about the moments and places that have inspired them and the lessons learnt along the way.
Earlier episodes have had more than 5,000 listens.
This new series, supported by the Royal Cruising Club Pilotage Foundation and available now, includes:
Discovering The South China Sea from Singapore to Taiwan, with Jo Winter
Steve Pickard talks about cruising Mediterranean Spain and of his own adventures in the area!
Linda Lane Thornton on cruising the amazing Atlantic Islands of Bermuda, Azores, Madeira Group, Canary Islands and the Cape Verdes.
Rod and Lu Heikell share their love for all things Greek.
Discover The Inland Waterways of France with David Edwards-May
Jane Russell, Imray Editor, shares her experiences of sailing with a young family on board
Exploring the Tidal Havens of The Wash and Humber with Peter Harvey.
For more details and to listen, go to Spotify, Apple Podcasts, Google Podcasts and most other popular platforms.
Related Links:
Royal Cruising Club Pilotage Foundation

………………………………………………………………………………………………………………………………………
Noonsite has not independently verified this information.
………………………………………………………………………………………………………………………………………
Places
User Comments
You must register first or be logged-in to leave a comment.
No comments for this post.