Honduras, Gorda Bank: Missing Sailor
(Updated July 5, 2019) – An Estonian sailor on passage from Jamaica to San Andres, Colombia has gone missing. Both of his EPIRBs were activated in the early hours of June 11, 2019, yet nothing but one of the EPIRBs and an oily life jacket has been found. This plea for help from the cruising community by Glen Tuttle of the SSCA KPK Radio Net.
Published 4 years ago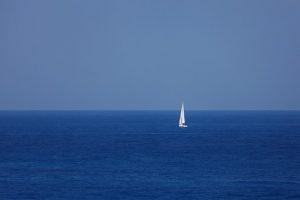 PART 2 – MISSING SAILOR IN CARIBBEAN
Published July 5, 2019
This sailor and his boat are missing from position 14 53.6 N by 080 26.8 W, or 26 NM ESE of the Gorda Bank off the coast of the border of Honduras and Nicaragua. Two EPIRBs were set off about midnight, and first vessel to respond was a freighter about 4 hours later. The only thing found was one of the activated EPIRBS and one life preserver. No debris field, normally associated with a collision at sea, or other sinking, was found. This area has been near the location of previous violent pirate attacks. See the Caribbean Safety & Security Net (safetyandsecuritynet.org) for past events.
There is a possibility the vessel was taken over by pirates and towed or sailed to the coast of Nicaragua or Honduras. It is also possible the boat was stolen and re-named in order to make drug runs.
There is a You Tube video made by ANDREAS SIPSAKAS which can be viewed at https://www.youtube.com/watch?v=1k4bE7jUZD4. This video shows a pretty good description of the vessel.
The following is an INTERPOL YELLOW NOTICE
This extract of the Notice has been approved for public dissemination
Identity particulars
Family name SIPSAKAS
Forename ANDREAS
Gender Male
Date of birth 26/04/1979 (40 years old)
Place of birth Rakvere, Estonia
Nationality Estonia
Place of disappearance Carribean
Date of disappearance 06/06/2019 (When 40 years old)
Physical description
Height 1.84 metres
Weight 80 kilograms
Colour of hair Blond
Colour of eyes Grey
Details
Father's family name and forename SIPSAKAS URMAS
Mother's family name and forename REINSAAR LEILI
Language(s) spoken Estonian, English
If you have any information please contact
Your national or local police
INTERPOL General Secretariat
or
Glenn Tuttle – Net Manager
Seven Seas Cruising Association
High Frequency Radio Service KPK
[email protected]
941-456-5070
You can remain anonymous if desired.
PART 1 – MISSING SAILOR IN THE CARIBBEAN
Published June 27, 2019
In the early hours of 11 June 2019, two separate EPIRB activations were received from the S / V SALACIA with only sailor ANDREAS SIPSAKAS aboard. Andreas is a 40-year-old man from Estonia on a passage from Jamaica to San Andres, Colombia.
His well-founded blue water sloop is, Estonian flagged, 10 meters in length, white hull with the name SALACIA on the bow, white sail covers, blue dodger, and lee cloths, and a large solar array on a radar arch on the stern. He had a new self-activating Viking 4 person life raft aboard, and the vessel was equipped to sail around the world. I have also had a dinghy of some sort. Unknown if the life raft was in a canister of a valise. Andreas was in good health with no medical issues.
Equipment
The following is a list of equipment aboard his boat according to his brother:
His equipment:
1. Drone DJI Mavic Air Fly More Combo
2. Samsung phone
3. LENOVA, model 80UD Laptop computer
4. Gopro camera
5. 21 "TV on cabin wall
6. Yacht motor is a Yanmar
7. VHF Radio Raymarine RAY 60 with hand station,
8. Two vhf radios (Handheld?)
9. Inmarsat SAILOR sat system with antenna module,
10. Dingy motor Honda 2.3 HP
11. Lewmar anchor screw 1000 w,
12. Solar panels 2 pcs 500 w combined.
13. Automatic raft Viking ocean for 4 person.
14. AIS Vesper Marine sender / receiver
15. Raymarine plotter Axiom pro, with world ocean maps
16. Second plotter Raymarine E80
Safety Equipment
Safety equipment by latest information:
4 automatic inflating Life vests 4 and 5-6 normal 5-6 PFDs
Viking Ocean style 4 person Life Raft with automatic deployment
Epirbs 2 pcs. Salacia and Bellatrix
shooting flares or rockets 7 pcs
Flares with bright light 7 pcs
Dingy with motor …
Fenders 10 pcs (different sizes)
Last Port of Call
His last known port of call was the first week in June when he was in Negril, Jamaica, which is a small town and beach resort on the western tip of Jamaica. It is unknown whether he was anchored or in some marina there.
He departed Negril, Jamaica on 06 JUNE 2019 for San Andres.
Situation
EPIRB # 1, MMSI 276 005 500, was activated on 11 JUNE 2019 at 0452 UTC (0052 Eastern Time) at position 14 53.6 N / 080 26.8 W.
EPIRB # 2, MMSI 265 656 570, was activated on 11 JUNE 2019 at 0540 UTC (0140 Eastern Time) at position 14 57.8 N / 080 23.4 W.
This general location is approximately 26 NM ESE of the Gorda Bank; 26 NM NNW of the Serrana Bank; 96 NM NNE of Providencia Island, Colombia. Water depth in the area is approx. 3600 feet to 6200 feet deep.
An investigation by the Estonian Coast Guard reported in the storms in the area at the time of the EPIRBs being activated. AIS signals at the time of the activation.
Upon EPIRB activation, USCG RCC Miami and RCC Estonia immediately began search and rescue operations. A nearby tanker ship, the CTG MAGNESIUM, was diverted to the area and found one of the EPIRBs and oily life jacket approximately 4 hours after the EPIRB activation. The ship did not see a debris field which would have been present had the vessel collided with another ship and sank, nor were there any other vessels in the area. Also, the USCG dispatched an aircraft to search the area with negative results.
Action
This area off the Gorda Bank has been the scene of many pirate attacks in the past. Was S / V SALACIA the victim of a pirate attack in the middle of the night?
What we need now are to identify other cruisers that have met ANDREAS SIPSAKAS aboard his SV SALACIA in the past. We are not sure at this time where he had been prior to being in Jamaica. Any cruiser knowing this man is asked to contact Glenn Tuttle – Net Manager, Seven Seas Cruising Association HF Radio Service KPK at [email protected], or call US phone number 941-456-5070.
I am going to post this information on various Facebook Groups used by offshore cruisers in hopes that someone will know this man and help put together his past travels and other information which may be useful.
Glenn Tuttle – Net Manager
Seven Seas Cruising Association
High Frequency Radio Service KPK
[email protected]
941-456-5070