Fiji, Viti Levu: Port of Lautoka No Longer Offering Clearance Services
Previous Page
News Intro
Noonsite has received information that the Port of Lautoka on Fiji's west coast is no longer providing clearance services or allowing yachts to anchor near the port.
Last Update - November 20, 2019
News Item Content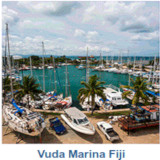 According to Port Facilities Security Officer Emosi Navusolo, the Port of Lautoka will "no longer entertain yachts anchored out in the stream between Bekana Island and the mainland, west of Amex wharf."
"This is due to access into Lautoka Port from the seaside and gate being restricted," said Mr Navusolo.
Port development
The change is due to the development of Lautoka Port and the facility being earmarked to cater to bigger vessels.
Yachts are advised to use the clearance services at Vuda Marina for safety and security.
Read the official notification here.
Refer to the main Fiji Formalities page for detailed clearance information.
Related Content:
Places
Update History
Last updated:  November 2019
User Comments
You must register first or be logged-in to leave a comment.