English Channel: 14 Migrants Caught Attempting to Cross Channel on Stolen Trawler
Previous Page
News Intro
French Police at Boulogne catches suspects breaking into a fishing vessel with the intention of crossing the English Channel.
News Item Content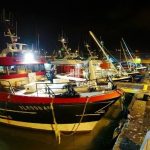 BY MAREX 2019-01-01 12:19:37
French police have intercepted 14 migrants at Boulogne who were allegedly intending to cross the English Channel on a stolen fishing trawler. The interdiction occurred in port after suspects were spotted in the act of breaking into the vessel.
The migrants detained are all Iraqi nationals and include one mother and one child. An additional two individuals are sought on suspicion of human smuggling, according to AFP.
This latest incident follows days after the UK government reported a spike in the number of people caught while trying to cross the Channel and enter Britain using small boats. About 230 migrants were discovered while attempting to make the crossing last month, including more than 100 who were intercepted by French police before their departure. The others were detected at sea or on arrival near Dover.
In response to the rising number of crossings, the UK is recalling two patrol vessels from a migrant rescue mission in the Mediterranean to join the sole ship that is currently conducting maritime security operations in the Channel.
Members of the opposition have described the announcement and the response plan as a political ploy to drum up support for Prime Minister Theresa May's controversial Brexit plan. The agreement – the product of months of negotiations with Brussels – comes up for a decisive up-or-down vote in Parliament in mid-January. If it is not approved, Britain will leave the EU without a transition plan or a trade agreement at the end of March.
"There's no question that with Brexit, and also with the approach of the meaningful vote in January, people are being whipped up about migration issues, because the government thinks this is the best way of frightening people to vote for their deal," alleged shadow home secretary Diane Abbott, speaking to The Guardian. "It's the Farage technique: 'hordes' of people trying to enter the country. You frighten people about that."
Date Last Edited
January 10, 2019 - 12:00 AM
User Comments
You must register first or be logged-in to leave a comment.
No comments for this post.