Citizen Science Project: All Ocean Sailors Can Help Record Floating Marine Debris
A pioneering study is underway to detect debris floating on the sea surface, led by scientists at Plymouth Marine Laboratory in coordination with the European Space Agency. The project needs the help of ocean-going sailors who can report on debris sighted from their vessel.
Published 2 years ago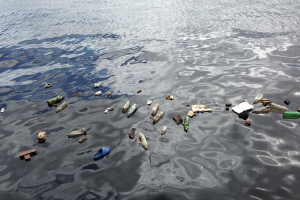 The FRONTAL project team at Plymouth Marine Laboratory in the UK, in coordination with the European Space Agency, is working on a project to detect floating debris with satellite imagery.
They would be very grateful for the assistance of sailors to report debris patches. High seas are particularly difficult areas to access, so any and every contribution with observations will be extremely valuable to their project.
They are looking for debris patches 2 meters across or larger. The patches do not have to be made up solely of manmade items, but can be natural flotsam mixed with bits of plastics or other manmade debris.
Below you will find their original message about the project and the link for reporting patches.
Top: enhanced 'true colour' image of Ghanaian waters, bottom: suspected plastics become more visible by using the Floating Debris Index (FDI). Satellite imagery generated using the European Space Agency (ESA) open-source Sentinel Applications Platform (SNAP 6.0) software.
……………………………………………………………………………………………………………………………………….
We are a team of marine scientists trying to understand to what extent satellites can detect floating marine debris. To do so, we are collating observations at sea and matching them to satellite images.
But we need your help in recording this information, so if you see some debris from your boat, seaside walk, or even on a social media post, you can tell us about it using a very short survey here: https://forms.gle/aaUV5yCrMB66j3pG7
We'll be running the survey until Summer 2021, so please do fill it in whenever you see debris accumulations and help us validate and develop remote sensing observations of floating marine litter accumulations.
PML – Plymouth Marine Laboratory – https://www.pml.ac.uk/
……………………………………………………………………………………………………………………………………….
Further Reading:
Our thanks to SV Migration for sharing this information with Noonsite.