Changes in the Gulf Stream
Previous Page
News Intro
Last Update - August 09, 2018
News Item Content
Crossing the Gulf Stream is a rite of passage for many East Coast offshore sailors.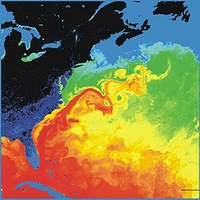 I'll never forget my first time. The Stream seems to generate its own weather, and the precipitous clouds on the horizon ahead were the initial clue that we were approaching. Then there was the sudden spike in the temperature of the ocean, up into the high 70s, as confirmed by the boat's seawater thermometer. The water itself shifted to a darker shade of blue, flecked with yellow patches of sargassum. And with a slight northerly breeze (thank God it was slight) leaning into the northward flowing current, the waves stood up into a progression of steep but reasonable, negotiable hills, the boat rising and falling with their flow. It was all very memorable. The Gulf Stream, the so-called "river in the sea" that trucks along in places at a good 4 to 5 knots, is truly a force of nature.
And, remarkably, it is also slowing down.
Read the full report at www.cruisingworld.com
Places
User Comments
You must register first or be logged-in to leave a comment.