Canary Islands: ARC+2021 Sets Sail for Grenada
ARC+ 2021, World Cruising Club's two-stage transatlantic rally to Grenada, has set off from Las Palmas de Gran Canaria in the Canary Islands, with 70 boats bound for Mindelo Marina in Cape Verde on the first leg.
Published 1 year ago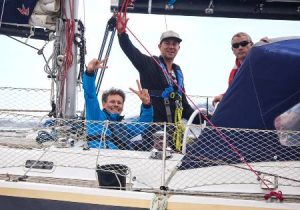 Source: World Cruising Club

Years of planning, months of preparations and days of checking off the jobs list has finally gone for all the boats and crew from 24 different nationalities who began their Atlantic adventure on Sunday November 7, 2021.
The rally began with a programme of pre-departure activities to ensure the boats and crews were suitably ready for departure. From the end of October, Las Palmas Marina was a colourful sight with yachts dressed overall and rally flags flying. ARC+ has had a real family feel this year with 17 boats sailing with children on board and a total of 33 kids set to enjoy their first taste of Atlantic sailing on the rally.
Safety Checks and Logistics
Following COVID-secure protocols, organised activities for participants prior to departure have included a range of seminars, crew suppers and drinks events creating a great community spirit amongst the sailors. Rally organisers World Cruising Club have supported their preparations with one-to-one safety checks of boat equipment and smoothing their logistics and the many marine businesses around the city have assisted with getting the boats ship shape for departure.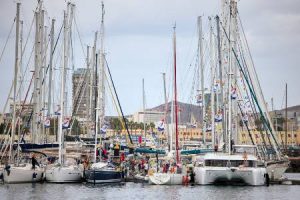 There was great excitement around the docks of Las Palmas marina as start day dawned and lines were slipped to head out to the starting area. "We are really looking forward to the departure. We deferred from last year's rally so it seems like we've been waiting such a long time so we just can't wait to get going!" said Derek Frame, British owner of the Wauquiez 47PS Delite, "It was a really good Skippers Briefing yesterday and we've had great advice and help from World Cruising Club, so I feel we are prepared and ready go now."
Stephan Friedel, skipper of the German Catana 531 Rob Roy III says that he has enjoyed his time here but after four weeks in Gran Canaria it will be good to start. "We want to get going now and everyone is ready and wants to get into warmer tropical weather. It's time to go now it's a bit cooler here! My first Atlantic crossing was in 1998, but this will be my first rally and my first as skipper – a dream that I've had since I was a young boy, so I'm excited that finally it has come true!"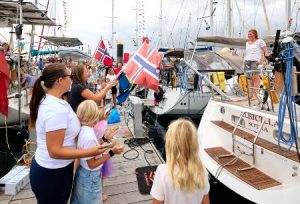 Fair Winds for Departure
As forecast, the winds on start day provided a rock and roll departure with 15-20knts blowing steadily in the starting area from the North East and a significant swell running outside the shelter of the port. The countdown began from ARC+ Rally Control onboard ARC yacht Vahine (FIN) acting as committee vessel for the ARC+ starts. At 12:45, the multihulls were led away by the impressive Outremer 51 Piment Rouge (FRA) and Neel 47 Bigbird (USA) flying across the line close to the shore to the delight of the spectators strolling along the Avenida Marítima.
At 13:00 it was the turn of monohulls with the Cruising Division setting off on the 865nm passage to Mindelo. It was the Beneteau Oceanis 40, Sala from Norway sailed by the Christensen family under the watchful eye of their weather expert Mads Liestøl Christensen who were first to cross the line. The Irish Moody 54 DS Hibernian skippered by Conor Haughey was next and another Norwegian family boat, Albicilla, crossed in third place with a big cheer on board. The start was quite a sight as the fleet bounced through the ocean waves and bid farewell to the city of Las Palmas de Gran Canaria.
Mindelo Marina, Cape Verde.
On to Cape Verde Islands…
For their first night at sea, moderate trade winds are expected to whisk the fleet away from Gran Canaria before decreasing as the yachts get closer to the Cape Verde islands in the coming days.
On arrival in Mindelo there is an exciting programme for crews to explore ashore and the stopover has been extended to give crews more time to enjoy the islands. The first boats are expected from Friday 12 November and will receive a warm welcome from the teams of Marina Mindelo staff and World Cruising Club.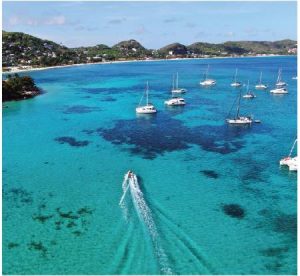 …and then to Grenada
Following the stopover, ARC+ has a new Caribbean destination this year and the fleet will be sailing to Camper and Nicholson's Port Louis Marina on the island of Grenada. The re-start from Mindelo will be on Friday 19 November.
All the yachts are equipped with a YB Tracker, regularly broadcasting their position to the online Fleet Viewer and YB Races app for friends and family to follow the fleet. Tales of fishing triumphs and tradewind sailing will also be sent to the World Cruising Club website, as participants share their ocean adventures.
Follow the Fleet:
More information:
To find out about participating in the ARC or other World Cruising Club rallies, please contact

[email protected]

or call +44 (0)1983 296060