Baltic 4 Nations Rally joins World Cruising Club Portfolio
Previous Page
News Intro
The world's leading sailing rally specialists World Cruising Club, organisers of the annual Atlantic Rally for Cruisers (ARC) have announced that they will be taking over the events and activities of Sailing Rallies Ltd, including delivery of this summer's Baltic 4 Nations Rally.
Last Update - May 03, 2018
News Item Content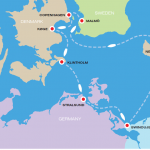 World Cruising Club is uniquely placed, as experienced organisers of international sailing events, to take the young company forward and enhance opportunities for cruising sailors to extend their sailing horizons.
Sailing Rallies, headed by MD John Simpson, have been successfully running transatlantic and Baltic rallies for the last two and a half years. "Although I will not be joining WCC, I am pleased that the other Sailing Rallies staff and projects have a new home under the World Cruising Club banner," said Simpson. "WCC has confirmed that the Baltic 4 Nations Rally will go ahead on schedule in July this year, and I know from experience that the WCC team will do an excellent job delivering the rally. World Cruising Club's reputation for providing sailors with safe and fun cruising rallies is well earned and participants will be in very capable hands."
WCC will deliver two rallies in the Baltic Sea this summer; the 2nd edition of ARC Baltic with 19 entries to date will be a six week cruise including stopovers in St. Petersburg, Helsinki, Tallinn, and Stockholm along with time cruising idyllic archipelagos. The Baltic 4 Nations Rally offers those with less time a shorter, two-week flotilla-style cruise, starting and finishing in Copenhagen.
"I am delighted that we have been given the opportunity by Sailing Rallies to take on their events, and deliver the Baltic 4 Nations Rally this summer. There is certainly synergy to be gained from this merger which will benefit cruising yachtsmen, with the possibility of further new rallies in the future," said Andrew Bishop, World Cruising Club's Managing Director.
Related content
Places
User Comments
You must register first or be logged-in to leave a comment.
No comments for this post.