Australia, Coral Sea: Sailors Rescued after Inflatable Catamaran Sinks
Three sailors who were circumnavigating the globe on an inflatable catamaran, have been rescued off the east coast of Australia after their vessel sank from an attack that was reported to be by small cookiecutter sharks.
Published 3 weeks ago
Russian round-the-world voyagers Evgeny Kovalevsky and Stanislav Beryozkin, along with French national Vincent Thomas Garate Etienne, arrived on the Sunshine Coast, Queensland on September 7, 2023, after being rescued by a Shanghai-bound cargo ship.
They were about 800km southeast of Cairns in the Coral Sea when they issued a distress call on Wednesday September 6th.
Australian authorities responded to the distress signal and directed the Dugong Ace to their location before the Cairns-based Challenger Rescue Aircraft arrived at the scene.
The sailors left Vanuatu on August 28th on their inflatable catamaran the Tion-Russian Ocean Way. The boat began to sink following damage to both hulls from several shark attacks, thought to be small cookiecutter sharks, according to the Australian Maritime Safety Authority (AMSA).
The Russians' three-year voyage is a project by a branch of the Russian Geographical Society and aims to re-create the first Russian round-the-world expeditions of the 19th century.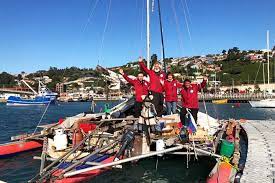 It's the second catamaran to be used in the attempt, after their first vessel was also punctured by sharks in Tahiti in June.
Small and Unique
According to Daryl McPhee, an associate professor of environmental science at Bond University, Queensland, Cookiecutter sharks are unique in that they're very small, usually around 40 centimetres.
"They generally feed on large prey including whales and large fish," he said. "Unlike most other breeds of shark who feed at dusk and dawn, cookiecutter sharks are night-time feeders and prefer tropical waters. It's not unheard of for them to attack inanimate objects, with reports of attacks on submarines and underwater cables.
"It is likely that the sharks mistook the inflatable catamaran for a whale or dolphin carcass, causing punctures to two out of its three hulls. These small sharks can make short work of inflatable boats."
The Russian Geographic Society confirmed the catamaran was part of a round-the-world expedition. A spokeswoman said the hulls were punctured by cookiecutter sharks in the Coral Sea.
Expedition to mark 250th Anniversary
The expedition marks 250 years since the birth of explorer Adam Johann von Kruzenstern and 200 years from the discovery of Antarctica by Russian explorers. It started from St Petersburg on July 1, 2021 and aimed to set a record for cruising distance on a frame-inflatable sailing trimaran. However, the sailors were rescued from this trimaran, named Russian Ocean Way, off Chile in March. The Tion-Russian Ocean Way was the second boat of the expedition, launched in April.
………………………………
Related News:
………………………………
Related Links:
………………………………
Find out all news, reports, links and comments posted on Noonsite, plus cruising information from around the world, by subscribing to our FREE monthly newsletter. Go to https://www.noonsite.com/newsletter/.