Atlantic Hurricane Season 2022: Above Normal Season Predicted
Hurricane season has arrived and with seven of the last eight years recording a named storm occurring in May, it's an early reminder to be prepared, particularly as the first named storm of the season in the eastern Pacific hit Mexico this week.
Published 10 months ago
The UK Met Office has issued its seasonal Atlantic hurricane forecast which calls for an above-normal season as does NOAA who report that the ongoing La Niña and above-average Atlantic temperatures set the stage for a busy season ahead.
Already, Hurricane Agatha has kicked off the eastern Pacific hurricane season, hitting the Pacific coast of Mexico this week, in what was described as the strongest hurricane ever recorded to come ashore in May.
Seventh Consecutive Above-Average Atlantic Season
In its forecast for the 2022 Atlantic Season, the UK Met Office says the most likely number of named tropical storms (winds of at least 39 mph) predicted to occur in the North Atlantic during the June to November period is 18, with a 70% chance that the number will be in the range 13 to 23. The 1991-2020 long-term average is 14.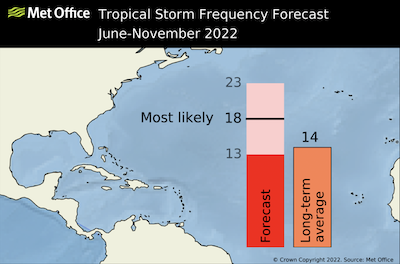 Forecasters at NOAA's Climate Prediction Center, a division of the National Weather Service, are predicting above-average hurricane activity this year — which would make it the seventh consecutive above-average hurricane season. NOAA's outlook for the 2022 Atlantic hurricane season, which extends from June 1 to November 30, predicts a 65% chance of an above-normal season, a 25% chance of a near-normal season and a 10% chance of a below-normal season.
For the 2022 hurricane season, NOAA is forecasting a likely range of 14 to 21 named storms (winds of 39 mph or higher), of which 6 to 10 could become hurricanes (winds of 74 mph or higher), including 3 to 6 major hurricanes (category 3, 4 or 5; with winds of 111 mph or higher). NOAA provides these ranges with a 70% confidence.
The increased activity anticipated this hurricane season is attributed to several climate factors, including the ongoing La Niña that is likely to persist throughout the hurricane season, warmer-than-average sea surface temperatures in the Atlantic Ocean and Caribbean Sea, weaker tropical Atlantic trade winds and an enhanced west African monsoon. An enhanced west African monsoon supports stronger African Easterly Waves, which seed many of the strongest and longest lived hurricanes during most seasons. The way in which climate change impacts the strength and frequency of tropical cyclones is a continuous area of study for NOAA scientists.
Below Normal for the Central Pacific
There is a 60% chance of below-normal tropical cyclone activity during the Central Pacific hurricane season this year, according to NOAA's Central Pacific Hurricane Center and NOAA's Climate Prediction Center, divisions of the National Weather Service. The outlook also indicates a 30% chance for near-normal activity, and only a 10% chance of an above-normal season.
For the season as a whole, 2 to 4 tropical cyclones are predicted for the Central Pacific hurricane region, which is located north of the equator between 140°W and the International Date Line. This number includes tropical depressions, named storms and hurricanes. A near-normal season has 4 or 5 tropical cyclones.
"This year we are predicting less activity in the Central Pacific region compared to normal seasons," said Matthew Rosencrans, NOAA's lead seasonal hurricane forecaster at the Climate Prediction Center. "The ongoing La Niña is likely to cause strong vertical wind shear making it more difficult for hurricanes to develop or move into the Central Pacific Ocean."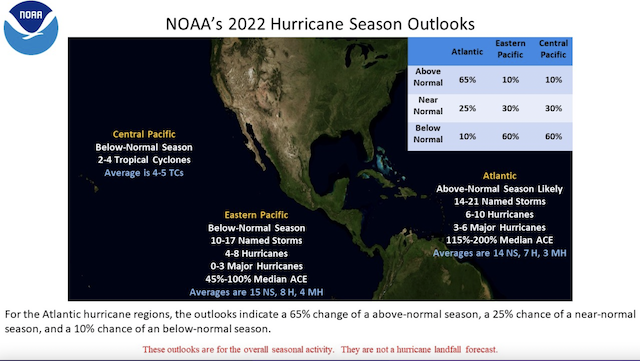 Below Normal for the Eastern Pacific
NOAA's 2022 eastern Pacific Hurricane Season outlook indicates a below-normal season is most likely (60% chance). There is a 30% chance of a near-normal season and only a 10% chance of an above-normal season.
The eastern Pacific hurricane season officially runs from May 15th through November 30th. The peak months of the season are July-September.
Hurricane Agatha, which formed on Sunday May 29, quickly gained power to become the strongest hurricane on record to make landfall in May in the eastern Pacific, according to Jeff Masters, meteorologist with Yale Climate Connections.
The storm hit Oaxaca state on Monday afternoon as a strong category 2 hurricane with maximum sustained winds of 105mph (165km/h), then quickly lost power as it moved inland over the mountainous interior.
Active 2021 Season
The active 2021 Atlantic hurricane season produced 21 named storms (winds of 39 mph or greater), including seven hurricanes (winds of 74 mph or greater) of which four were major hurricanes (winds of 111 mph or greater), according to NOAA.
This above-average hurricane season was accurately predicted by NOAA's Climate Prediction Center, a division of the National Weather Service, in their May and August outlooks.
The 2021 season was the third most active year on record in terms of named storms and marked the sixth consecutive above-normal Atlantic hurricane season. It was also the first time on record that two consecutive hurricane seasons exhausted the list of 21 storm names.
Scientists attribute the heightened hurricane activity in recent years to the warm phase of the Atlantic Multidecadal Oscillation that began in 1995 and favors more, stronger and longer-lasting storms.
Hurricane Henri.
………………………………………………………………………………………………………………………………………….
Related News:

Related Links:
Related to following destinations: Antigua & Barbuda, Aruba, Bahamas, Barbados, Belize, Bermuda, Bonaire, British Virgin Islands, Cayman Islands, Cuba, Curacao, Dominica, Dominican Republic, East Coast (Mexico), Grenada, Guadeloupe, Guatemala, Haiti, Hawaii, Jamaica, Martinique, Mexico, Offshore Islands (Mexico), Puerto Rico, St. Barts, St. Kitts & Nevis, St. Lucia, St. Martin, St. Vincent & the Grenadines, Statia, Trinidad & Tobago, Turks & Caicos, US Virgin Islands, West Coast (Mexico)