ARC Channel Islands Rally: New Route for 2018
Previous Page
News Intro
Following two successful editions, ARC Channel Islands, entries are now open for this summer's rally which features a new route for 2018 with Dartmouth as the start port.
Last Update - February 27, 2018
News Item Content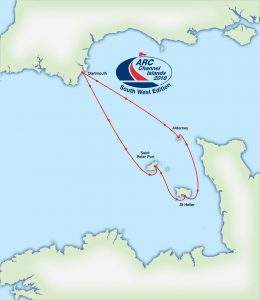 Run in association with RYA Active Marina, the Rally is popular with cruising sailors for its unique mix of preparation advice and support from a lead boat, combined with a cruise-in-company and social activities ashore. The aim of ARC Channel Islands is to give cruisers the impetus and encouragement to extend their cruising horizons, whether as a first offshore voyage; perhaps a first-time double-handed cruising; or sailing with young children, or experiencing crossing the Channel at night.
"The friendships we made on the rally will hopefully last a lifetime," said Geoffrey Higginbottom who sailed on Tessa Jane, his Bavaria 39 with the 2017 edition alongside wife Sheree, daughter Florence and two friends. "We definitely have lots of happy memories and ARC Channel Islands has increased confidence in our sailing abilities – we certainly have an appetite to venture further next year."
Announcing the South West Edition
2018 will see the first 'South West Edition' of ARC Channel Islands, starting from Darthaven Marina, Dartmouth with a social programme as well as boat safety checks, passage planning guidance and a Skippers Briefing. The Dartmouth Yacht Club are supporting the new South West edition, which will run in alternate years with the South Central route from Gosport, offering the chance for West Country cruisers to benefit from the rally organisation.
The route of this summer's rally has been modified to suit the course from Dartmouth, with landfall after the Channel crossing at Guernsey replacing Cherbourg. This new route also allows for the inclusion of Jersey to the route, before heading back across the Channel from Alderney.
Throughout the route, there is the familiar mix of social sailing, get-togethers ashore and the reassurance that the lead boat is there to guide and assist. On board, the team including a senior instructor from Hamble School of Yachting are there to help, encourage and check plans, as much or as little as crews want.
"The benefits we derived from taking part in the rally were enormous," said Stephen Richardson, of Hallberg Rassy 312 Midnight Wanderer who sailed with the first edition of the rally in 2016. "Passage planning and navigation skills were enhanced, and there was a sense of achievement in ticking off the marks as we went down Little Russel, and succeeding in picking out the lights as we approached Portsmouth on return. The daily briefings from the lead boat were not directional, but helpful nonetheless, and the YB Tracking unit allowed us to keep track of all the boats in the fleet."
The rally office will open on Thursday 9 August, before the fleet slip their lines (weather permitting) on Saturday 11 August from Dartmouth. Framed with the offshore cross-Channel legs, the route explores some of the highlights of Guernsey, Jersey and Alderney, with the opportunity to change crew along the way. The rally ends back in Dartmouth following a night sail on Sunday 19 August.
Entries are open
Due to space restrictions, ARC Channel Islands is limited to 25 boats and places will be allocated on a 'first come, first served basis'. It is anticipated that the rally to be popular and encourage those interested to enter early to secure their place.
Full details including pricing, rally benefits and links to the conditions of entry and safety equipment requirements are available in the ARC Channel Islands Information Pack. To request a copy, please visit www.worldcruising.com and select Tell Me More, or contact World Cruising Club on +44 (0) 1983 296060, or email [email protected]
You can also visit the ARC Channel Islands website www.worldcruising.com/arcchannelislands
Places
User Comments
You must register first or be logged-in to leave a comment.
No comments for this post.