Contents
Date: Tuesday 12 November 2013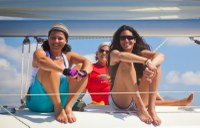 Time: 18:00 – 21:00
Venue: Puerto Calero, Auditorium, Edif. Antiguo Varadero, 1st Floor
Entry: €10 (to cover a drink and light buffet)
Forum moderators Stephanie Charlton www.endeavoursailing.co.uk and Kathy Parsons www.womenandcruising.com aim to provide advice and inspiration for female cruisers. They will address topics such as the most common concerns and fears about life on board, practical passage planning tips and useful methods of waste management.
Attendees will have the opportunity to ask questions in an informal and relaxed environment and to learn from Kathy and Stephanie's own personal experiences highlighting how they can make cruising meet their individual needs.
Stephanie is School Principal at Endeavour Sailing in Puerto Calero and Instructor for the following RYA qualifications: Cruising, Yachtmaster Theory, First Aid and VHF use. Kathy is the founder of the website www.womenandcruising.com and author of the popular 'French for Cruisers' and 'Spanish for Cruisers'.
To book a place for this forum, please contact: Puerto Calero +34 928 510850 /[email protected]
More information on currently available please contact: Stephanie Charlton, Endeavour Sailing Ltd on +34 928 849635 (a.m. only) or email: [email protected]