USA: Leaving the Safe Harbor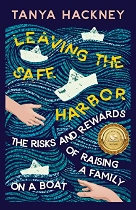 Leaving the Safe Harbor: The Risks and Rewards of Raising a Family on a Boat
The book charts the journey of the author and her family from suburban Atlanta to coastal Florida to distant islands as seen from the deck of a catamaran. It shares the highs and lows of living in close quarters, and of raising five children while homeschooling bravely on a boat.
Leaving the Safe Harbor shows us more than seafaring stories or what it's like to go sailing with kids. Each chapter explores a different sailing idiom and the character traits developed by challenges and adventures. It shows that conflict can be handled through grace, how failures can lead to future successes, how hardship can teach us gratitude and help us find inner strength. It reveals the trade-offs when a family prioritizes relationships and experiences over material things and a so-called normal life. Living close to nature enriches the author's spiritual life. And the ocean teaches life lessons, including how to be flexible, disciplined, patient, and open to new experiences.
Most importantly, Leaving the Safe Harbor shows us how love, perseverance, and hard work can turn an idea into a reality.
By: Tanya Hackney
Publisher: Ingenium Books Publishing (October 31, 2021)