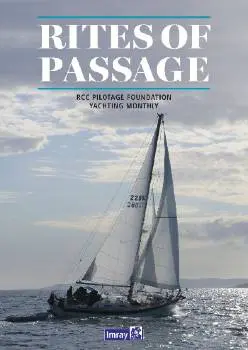 Rites of Passage
Royal Cruising Club Pilotage Foundation
A Companion to the Yachting Monthly Series
For anyone exploring the UK or UK sailors looking for challenging routes from their home shores, this book brings together a selection of the best "milestone" passages around the British Isles that should not be missed.
Compiled by Yachting Monthly, the Royal Cruising Club Pilotage Foundation and Imray, this collaborative publication includes pilotage information and tide diagrams for each passage to help with planning as well as beautiful inspirational photographs. There is also some information about each passage author and a very interesting section on each destination called "Why Visit".
Some of the passages covered include:
Falmouth to Isles of Scilly (Sam Llewellyn)
West of Scotland to the coast of Northern Ireland (Norman Kean)
Solent to Alderney across the Channel (Ros Hogbin)
Shetland to Bergen across the northern North Sea (Paul Heiney)
St Kilda and back (Mary Max)
Across Biscay (Madeleine Strobel)
This book is a great reminder that challenging passages and exciting cruising can be found around the UK and neighbouring shores and is an insipirational read.
Published by Imray