Contents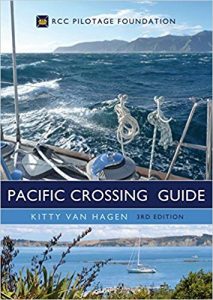 Buy Now
The Pacific Crossing Guide is a complete reference for anyone contemplating sailing the Pacific in their own boat. From ideal timing, suitable boats, routes, methods of communication, health and provisioning to seasonal weather, departure and arrival ports, facilities, likely costs and dangers, the comprehensiveness of this new edition will both inspire dreamers and instill confidence in those about to depart.
This new edition has been completely restructured with Part 1 covering thorough preparation for a Pacific crossing and Part 2 covering Pacific weather patterns, major routes and landfall ports, with useful website links throughout. There are completely new sections on rallies, coral atolls and atoll navigation, the cyclone season and laying up, use of electronic charts, satellite phones versus HF radio, ongoing maintenance, and Pacific festivals.
75 color maps + 40 photos
Completely updated, expanded and refreshed for the new generation of Pacific cruisers, this is the definitive reference, relied upon by many thousands of cruisers.
Latest updates to the 3rd addition can be found here.
Review
The new 3rd edition of the Pacific Crossing Guide has been reviewed by Katherine and Peter Ingram. Their review of the new Pilotage Foundation Pacific Crossing Guide by Kitty Van Hagen concludes:
"Anybody, planning an imminent voyage to any part of the Pacific will benefit hugely from having a copy of this book with them but, equally, it is a must have for anyone planning and dreaming of an adventure in the future!"
See review on the RCCPF website.
Author: Kitty Van Hagen
Published: 3rd October 2016 by RCC Pilotage Foundation
http://www.rccpf.org.uk/
First published in 2003
A4 hardcover full colour, 256 pages
ISBN 9781472935342
EXCLUSIVE BOOK DISCOUNTS FOR NOONSITE USERS
Imray & Adlard Coles Pilot Books can be purchased with an exclusive Noonsite discount of up to 15% by visiting our Imray store if shopping from the UK or Europe.
For North America and the rest of the world visit Bluewater Books & Charts. When ordering through Bluewater be sure to enter the coupon code NOON during checkout to save 10%.