Contents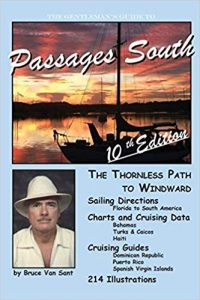 Buy Now
The Thornless Path to Windward – He has systematically taken the thorns out of the route they used to call the Thorny Path. For example, he exploits the calming effects on wind and sea which result from land cooling on each side of an inter-island passage. Applying his many methods, both sail and power can make safe, comfortable and pleasant progress even against normally impenetrable trade winds and seas.
By Bruce Van Sant.
Publisher: Bruce Van Sant and Cruising Guide Publications; 10 edition (March 2012)
ISBN- 9781470146962
EXCLUSIVE BOOK DISCOUNTS FOR NOONSITE USERS
Imray & Adlard Coles Pilot Books can be purchased with an exclusive Noonsite discount of up to 15% by visiting our Imray store if shopping from the UK or Europe.
For North America and the rest of the world visit Bluewater Books & Charts. When ordering through Bluewater be sure to enter the coupon code NOON during checkout to save 10%.